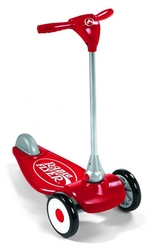 They want to deliver a fresh perspective on buying toys - everything from toy boxes, toys for tots, educational toys, licensed toys such as Dora, Hasbro, and Lego, doll houses and doll house accessories to a full range of toy guns, toy cars and trucks, trikes, and scooters
Geelong, Victoria, (PRWEB) September 21, 2009
Toy Guru - the animated genie of the newest Australian online toy shop ToyGuru.com.au is set to become a household name amongst parents shopping for toys online this Christmas.
Launching their new site just one month shy of the Christmas purchasing rush in October, the directors of Toy Guru are adamant that customer service remains their top priority.
"They want to deliver a fresh perspective on buying toys - everything from toy boxes, toys for tots, educational toys, licensed toys such as Dora, Hasbro, and Lego, doll houses and doll house accessories to a full range of toy guns, toy cars and trucks, trikes, and scooters," says Jim Thompson, General Manager of DDG, the company which created the new, vibrant website.
"The animated genie 'Toy Guru' is designed to allay some of the concerns that many people feel in connection with online shopping for toys, though those shopping for educational toys to date are a lot less cautious. Educational toys sold online and even educational toy stores locally often provide toy reviews so people feel more comfortable purchasing from them."
"In addition, Toy Guru want their customers to know that their prices are exactly the same - if not cheaper - than other toy stores online and locally." Jim adds.
Although Toy Guru has plans to include toy reviews at a later date, they maintain that their edge in the toy stores online industry is four-fold:
1. They have the first Australian online toy stores website offering an interactive, animated character to help make purchasing toys online easier;
2. They have an enormous range of toys for sale online - including many that are exclusive to Toy Guru;
3. Their prices are the same if not cheaper than the competition;
4. They have a pioneering delivery scheme which equates to the more toys you buy, the less freight you pay…until it's free!
The new delivery scheme is simple. It involves allocating shipping points to every item: toy boxes, toy cars, doll houses, puzzles, Lego, educational toys, trikes, scooters and more chosen to go in the shoppers' carts. These shipping points add up. Once the total reaches 100, the delivery charge is free.
"It's a unique promotion," says Jonathan Roberts, Managing Director of DDG, "which can't help but stand Toy Guru out as a leader in the toy stores online industry."
"I'm a busy guy. I have kids. I don't want to spend all day looking for what I want - or what my kids want. Toy Guru stocks the entire range of toy boxes and toys - including educational toys - for all ages, at the same or cheaper price than anyone else, and offers the chance for free delivery."
"I mean, who doesn't want free delivery when they buy toys online?"
###