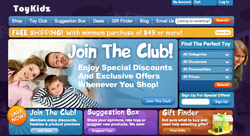 Because family happiness is not dependent on price or brand label but the affection and time we share with our children.
San Antonio, TX (PRWEB) October 4, 2010
Toykidz.com is a new online toy store that understands toys for businesses and organizations are not only about wholesale prices, but about building customer/member loyalty, while offering a flexible system capable of fulfilling both large and small orders. Rather than the strict rules of wholesale purchase, Toykids works by giving frequent shoppers the benefits of a Toy Club rewards program, offering bigger discounts the more you shop, including exclusive coupon codes and the convenience of automatic ordering.
For a sneak peak and to pre-register for Toy Club membership, the site will officially open its virtual doors on October 15th, 2010. The first 250 businesses who sign up before the official launch will receive exclusive VIP invitations, featuring additional discounts on their orders. Toykidz.com wants to bring back the toys that inspire imagination, conversation, and long lasting memories. Each group of toys will be organized into ages (4-12) and personalities, making it easy to match the right toys to the right kids. Their toy will remind customers/members of a time when a toy was just a toy, and playtime meant creating a positive experience with the family. "We believe that happiness is about creating positive experiences together, so we bring you toys that will make those experiences more memorable," says Jenny, an employee at Toykidz.
Toykidz invites all businesses and organizations to join them on this new toy buying experience, which will include free membership to their Toy club, offering VIP member discounts and exclusive, year round savings. All buyers/customers can also take part in daily deals and promotions, as well as a suggestion box feature, which allows them the convenience of telling Toykidz how they're doing, and what toys they'd like to see more of. "We care about what you like," says Greg, another employee at ToyKidz. "We only want to bring you what you're looking for."
Toykidz Story:
Great childhood comes from spending quality time with family. Because family happiness is not dependent on price or brand label but the affection and time we share with our kids...now that's priceless and exactly what we at Toykidz.com care to recreate through our toys!
###