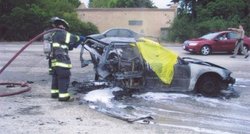 Toyota did the right thing by issuing the recall and apologizing for the needless deaths and suffering
SAN JOSE, CA (PRWEB) October 5, 2009
The Mann Law Firm and The Franecke Law Group helped the family of Troy Edwin Johnson settle a claim against Toyota Motor Corporation this summer (Santa Clara County Superior Court Case #1-08-CV-110696) after Johnson was killed instantly and his body burned beyond recognition in July 2007 when his vehicle was struck by a Toyota Camry traveling out of control at approximately 120 miles per hour.
Toyota's largest-ever U.S. recall to address problems with a removable floor mat that could cause accelerators to get stuck and lead to a crash is too late for Johnson's family. "It is sad that Troy's children will grow up without a father due to a defective design with Toyota floor-mats", .said his wife Melodie Renee Bohuchot. "I lost my best friend, the children lost a father that really cared about and a father that really loved them and wanted to be a part of their lives ", said Bohuchot.
Attorneys Mohinder Mann and Gary Mann, The Mann Law Firm, along with Lou Franecke, Franecke Law Group, helped Bohuchot settle her lawsuit against Toyota for an amount not permitted to be revealed.
"Toyota was and must be held accountable for their design engineering mistakes", said Attorney Mohinder Mann. When an accident is caused by the defective design or manufacturing of a vehicle, the manufacturer can be held liable for damages to the injured party. "Toyota did the right thing by issuing the recall and apologizing for the needless deaths and suffering", said Franecke. "This accident points to the tragic consequences when defective cars are let loose on the streets", added Franecke.
Johnson was killed when in a fiery accident on July 26, 2007 along Interstate 280 at Race Street in San Jose. Initial CHP reports indicated that excessive speed and dangerous driving, including passing in the center divider, may have been the cause of the accident. On further investigation, the CHP found that the Camry's floor mat could possibly jam the gas pedal down, causing the car to speed forward. Investigators found evidence that the driver had indeed tried to slow down the car, but had failed.
The National Highway Traffic Safety Administration began an investigation in March 2007, four months before Troy's accident, after receiving five complaints from owners of the 2007 Lexus ES 350 about unintended acceleration. The agency's investigation in 2007 made it clear the automaker had a problem with the design of the accelerator pedal and the all-weather, rubber floor mats that were an option.
About Attorney Louis Franecke
Attorney Louis Franecke specializes in product liability cases involving airplane and vehicles. In his more than 35 years in practice, Franecke has been involved in numerous high profile national cases including the early Corvair rollover cases.
About The Mann Law Firm
The Mann Law Firm has been serving their clients for over 30 years with their extensive litigation experience. Over the years, the firm has helped their clients recover millions of dollars for cases ranging from injuries suffered in car collisions to manufacturing and design defects against automakers to dangerous conditions caused by public entities.
###