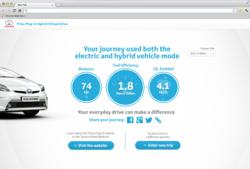 It's a step in the right direction, as it forces drivers to think about the implications of their daily travels.
(PRWEB) December 27, 2012
The Prius Plug-in Hybrid combines the benefits of both electric and petrol hybrid engines. The 'Everyday drive' microsite showcases new levels of fuel efficiency and quells the perceived range anxiety associated with all-electric vehicles.
To begin, users enter starting and ending addresses, then select the preferred unit of measurement (EU L/100km, U.K. mpg , JP km/L or U.S. mpg). Selecting "start" shows appropriate background scenery via Google street view as the car virtually "travels" in EV mode.
At arrival, 'Everyday Drive' shows a Google street view image of the location, before spitting out data on distance traveled, fuel efficiency (in desired units) and carbon dioxide emissions.
Click the play button on the upper-right to a look the Toyota Prius-PHV 'Everyday drive' video.
Presumably, the site factors in variables such as speed limits and terrain, all of which will have a significant impact on the range in EV mode. When the batteries are depleted, the program switches to Hybrid (HV) mode for the remainder of the virtual journey.
Try the virtual drive website here: http://priusplugin-virtual.toyota-digital.com/