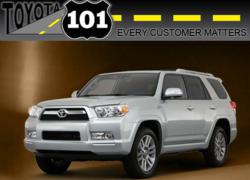 we discovered an increasing need to provide more options, links, and tools to enhance and improve the over-all experience
Redwood City, CA (PRWEB) July 25, 2011
Toyota 101 San Mateo Toyota Sales, announces it has updated it's digital experience, with an all-new, revamped and updated web site, announced Dana Marazzito, General Manager, Toyota 101.
"The previous website was very good and was well received; Marazzito said, but, pointed out that as traffic to the web site continues to grow, "we discovered an increasing need to provide more options, links, and tools to enhance and improve the over-all experience." We've been working on this for awhile, and we've very proud and excited to launch the new site, now," he said.
Toyota 101 is a full service dealership located in Redwood City. The dealership covers a wide geographic area, including San Mateo and Menlo Park Toyota service and sales support. Toyota 101 has become one of the leaders in the Bay Area for Toyota sales, including the world-famous Toyota Prius, and the local choice for Toyota service in San Mateo County.
Beyond the standard new and pre-owned inventory lists, the Toyota 101 web site will offer a variety of features and extras, including weekend specials, a copy of the print ad, and Carfax info. The site will also allow the on-line visitor to schedule a service appointment, order parts, and check on the status of an in-progress service appointment.
"Extremely user friendly," Marazzito adds, allowing us to talk to our customers in a very personal sort of way," Plus, he pointed out that the web page will feature how-to videos, regarding such useful topics as navigation and entertainment systems," states Dana Marazzito.
About Toyota 101
Toyota 101 is a full-service Toyota dealership that offers non-commissioned new and pre-owned Toyota sales in San Mateo County. The dealership is open Monday through Saturday from 9:00 am to 8:30 pm and Sunday 10:00 am to 7:00 pm. The Parts and Service Department is currently open Monday through Saturday from 7:00 am to 6:00 pm and closed on Sunday. Beginning June 1st, the Service Department will be open Monday though Friday from 7:00 a.m to 8:00 pm and on Saturday from 7:00 am to 6:00 pm. Closed Sunday.
Toyota 101 serves the San Francisco Bay Area Peninsula communities of Atherton, Burlingame, Cupertino, Hillsborough, Los Altos, Los Altos Hills, Los Gatos, Menlo Park, Mountain View, Palo Alto, Portola Valley, Redwood City, San Carlos, San Jose, San Mateo, Santa Clara, and Woodside.
# # #