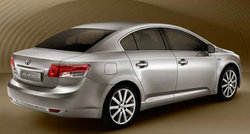 Derby, UK (PRWEB) December 10, 2008
Toyota's revised earnings outlook, a first in several years is a grim indicator of the health of the global automotive industry. A notable change in the market is a shift in consumer preferences towards that of 'cheaper to run', less expensive and more efficient vehicles. A trend re-enforced by the desire for cheaper cars as affordable finance and credit is proving difficult to come by.
The development team are placing stock in the brand new Toyota Avensis with cleaner, more efficient engines and innovating with the Toyota iQ produced in a partnership with the Royal College of Art set to promote design for clean modern urban living.
At the sharp end of the supply chain, dealers are recommended to adapt their retailing strategy with diligent use of the very latest technology, customer-centric service levels and data mining if they are to maintain a sufficient enough competitive advantage over alternative brands and outlets.
Customers are becoming even savvier in searching for bargains and are putting off making purchases unless they experience an optimal level of service at every stage of the buying process. Empirical evidence suggests that web surfers are spending a proportionately longer time viewing vehicle details on web pages when considering making a purchase. Surfers who converted to customers expected to be presented with clear details regarding price, images and a greater depth of information. Dealers are being urged to increase the frequency of communication with customers and prospects, analysing how they treat customers pre and post sale and tailoring marketing activity accordingly rather than cutting back on promotions and generous trade-in deals.
In line with the current environment, dealers are striving for profitable sales rather than volume sales and levering the brand trust and value added by franchised networks in order to safeguard competitiveness and profitability through the economic turmoil.
Pentagon Toyota is a fully franchised Toyota dealer network located throughout Yorkshire. For more information visit http://www.pentagon-toyota.co.uk
###