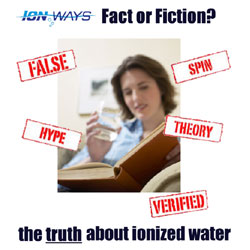 Reno,NV (PRWEB) May 24, 2012
In recent years, the technology of home water ionizers has become increasingly popular throughout North America and Europe. As with most things, when people become increasingly aware and demand increases, so does the influx of information and opinions. With the increased use of the internet one can find information on just about any topic, whether the information is fact, fiction or just plain outrageous can be hard to decipher.
Thus, this white paper has been written, to sort out the proven facts from theories and false information. While this is just a small fraction of the common claims that are out there, on the topic of healthy alkaline water, the following is experts opinion, with facts and research.
It's better for the body to be slightly alkaline.
Both alternative health professionals and Western medical doctors agree that to maintain health, the main fluids in the body – blood, lymph, interstitial fluids surrounding the cells need to be slightly alkaline.
"The first step in maintaining health is to alkalize the body."
Arthur Guyton, M.D. Textbook of Medical Physiology
As one Ages It becomes harder to maintain pH.
Research has shown that human body lose the ability to buffer pH as we age, and the body stores acid waste in fat cells or in other storage forms that are not healthy. (Frasetto, 1996) Chronic mild acidosis may in fact be the underlying cause of many diseases.
The Body's PH is Effected by Diet, alkaline water and other lifestyle factors.
It's true that human body can affect the pH of body's inner ocean by changing diet, drinking alkalizing beverages, and reducing stress and exposure to environmental pollutants.
One can quickly change pH to more alkaline to address acute or chronic disease by drinking ionized water.
There is no research to validate that disease can be cured quickly by changing the pH of the body's internal ocean through diet or drinking ionized water. It's a reasonable theory backed by
observation and case histories. However, over time with diligence in diet and drinking alkaline, ionized water, most people notice differences in their health, and some have reported near miraculous reversals of their health problems.
Consuming a raw vegan diet is the best way to stay alkaline.
While some natural health experts advocate at least an 80% raw vegetable diet, there is no scientific evidence that proves it is the best way to alkalize for everyone. All individuals have different metabolic systems, and what works for one person may not be right for another. However, ionized, alkaline water provides hydroxyl ion buffers that can benefit everyone. Since it is simply OH-,the body makes water out of it if the buffer is not needed for neutralizing acids.
Water Ionizer can't change the pH of tap water.
This is easily proven as false. All one have to do is test the water with a pH meter before and after ionizing to find the pH has changed as much as the source water and power setting will allow. Testing will also show that ionization changes the electrical charge of the water from positive – or oxidizing – to negative, making it an antioxidant.
Click Here to know More Facts About Alkaline Water and Water Ionizers