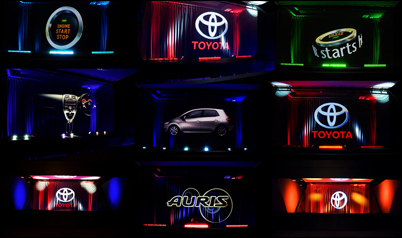 London, UK (PRWEB) January 30, 2007
Musion Systems, the projection technology behind the seminal video holograms of Sir Richard Branson, Madonna and virtual band Gorillaz, this week completed installation of the largest virtual 3D video hologram ever to appear in a single unit retail outlet - the projection of a full size Toyota Auris® family car spinning midair, complete with a life size human test driver. The groundbreaking projection, which dwarfs all previous in-store holograms, launches on January 18th for 4 weeks at the Bluewater shopping centre in Kent with Philips 3D plasma screens featuring at 7 other sites nationwide. The project was undertaken on behalf of Toyota GB in collaboration with creative agency Brandwidth Marketing and video production house Square Zero.
Musion® Eyeliner™ is a new and unique high definition video projection system allowing spectacular freeform 3-dimensional moving images to appear within a live stage setting. Eyeliner brings dramatic, previously unseen 21st century video film effects to the live set mediums of stage, AV - artistic performances, conference or trade show presentations, retail displays and large scale out of home digital signage.
The Musion installation is the main focal point of a unique series of in-store audio-visual experiences for the launch of Toyota's new car, the Auris. Creative agency Brandwidth Marketing together with leading retail design consultant John Whittle were commissioned by Toyota to design and build a unique retail theatre concept stores as a pivotal launch promotion for the Auris family hatchback car - a model seen by many as a serious challenger to the Ford Focus. The video presentations also include Philips WOWvx Intelligent 3D stereoscopic lenticular plasma screens provided by Musion Licensee partner Dimensional Studios. Both video mediums are able to present compelling virtual 3D images without the need for audiences to wear polarizing framed spectacles.
From the initial briefing to the delivery, the project took approximately 8 weeks to complete.
Bluewater Shopping Centre attracts over half a million visitors a week. The new Auris store is expected to create considerable exposure for the Toyota brand during its 5 week tenure.
Andrew Strange, Director at marketing agency Branwidth said; 'Toyota believes in making it easy and enjoyable to experience their models. This activity for the new Auris is our most imaginative experiential marketing development yet. It's great to be able to take the ultimate retail challenge of designing a real concept store where they can do all this in comfort and style'. We hope shoppers will enjoy the unique retail theatre we have brought to them and will see for themselves why the new Auris from Toyota can lay claim to being 'created around you'.
Video Production and Technical Background
The main video sequence produced for the Toyota holographic projection is based on the Pepper's Ghost principle using an 'invisible' Eyeliner foil projection screen. This gives the impression of a life size car along with all the effects directly sitting on the stage within the showcase store (think of the effect created for the movie "Who Framed Roger Rabbit?"). The development of HD video production coupled with high powered HD projectors and the use of a thin membrane "foil" (Eyeliner™) have created images of a scale and definition never before possible resulting in a much more realistic look than anything previously achieved using a more conventional Pepper's Ghost set up.
Video content for the in-store display technologies has been created in unison using two custom made techniques and produced entirely in high definition by Square Zero. Dynamic live action and CGI were combined to create images with depth which the viewer can reach out and almost touch.
Under the creative direction of Dean Johnson from Brandwidth, Square Zero designed a sequence which would enhance the brand based on the strapline 'Created Around You' and which would make the most of the depth effect of the screens.
The video sequence involves animated mercury tendrils wrapping around featured car parts as well as the car building plane by plane whilst revolving slowly around the driver. Using Autodesk's Maya, a dummy 3D car was matched to the real car in order to render the all important Z depth pass which is used to give the live action car its illusion of depth.
Vicky Godfrey, MD of Square Zero produced both the shoot and the post production with consultative input from Gareth Unwin at Bedlam. The two day shoot involved a combination of turntable and motion control photography at the Malcolm Ryan studios in Wandsworth. All post, animation and compositing were rendered and graded using Maya 8.0 and Shake to 1920 x 1080i resolution - undertaken in house by the Square Zero team headed up by Olly Tyler. The HD footage was keyed and cleaned up using Shake. Extensive rotoscoping was employed in parts to add further realism to the more spectacular animation effects. Atomic Arts provided final encoded output for in-store playback on the HD Mpeg2 Mediasonic 9200P video server.
The Mediasonic 9200P was configured with an Avolite lighting system and time code to run automatically on start up preprogrammed bespoke live lighting sequences designed by Mark Hannah Lighting. The light show interacts directly with Square Zero's video sequences to enhance the 3D effect using Pixel Par 90Ls, 1044 LED Batons, Mac 300s, 500 and 600s supplied by PRG and AC Lighting. High Definition digital video projection of the 5m wide x 3m high image is achieved using a single Barco R12+ Performer fitted with a special high brightness short throw lens and an HD digital interface card installed and configured by Barco UK. The image reflects from a high gain digital grey Harkness Hall front projection screen before bouncing through the Eyeliner Foil to complete the magical effect.
Due to the limitation and premium on space inherent of retail outlets the Musion Eyeliner projection set design featured one of the smallest footprints so far used to achieve such a large 3D video image. In all, projection path included, the stage performance area measured around 5m x 4m x 3m high. The installation was managed directly by Musion Systems in collaboration with technical design partners C2R configuring the projection path and Concept to Reality taking responsibility for set design, construction and installation.
Musion Background and Business Overview
Musion Systems Limited is a privately owned company and the exclusive master global Licensee for the "Eyeliner"® projection system.
Musion Eyeliner technology has been used in a variety of applications including lifesize holograms of Madonna (Grammy Awards, LA), Gorillaz animated band (MTV, Lisbon), General Electric GEnx aircraft engine (Farnborough Air Show), Cadillac SLS (China National Launch, Shanghai) John McEnroe (Wimbledon LTA Museum), Hewlett Packard Server (Marriot Hotel Seoul), Nike (Gallery La Fayette, Paris) Richard Branson (Virgin Megastore, London). Additionally the BBC, BMW, Celador TV, Fortune Magazine, Landrover, Honda, Turner/CNN and Landrover have all recently discovered the thrilling visual impact of Eyeliner™ for major product launches, customer entertainment, TV spectaculars and key note addresses.
Eyeliner is unique worldwide and protected by patents granted in countries all over the world, including USA, Japan and Europe, with a further three PCT patents pending. Musion is principally an Intellectual Property licensing company. The business is based around exploiting a number of patents that have been issued on producing Pepper's Ghost using a purpose designed foil rather than glass.
For reference the patent has been granted as a "process patent".
Musion sees the foil as a canvas and as such the show can always be different. Musion relies entirely on the creative input of the content providers. There are some things that Musion knows work really well - human interaction with projected images is probably the pinnacle.
Eyeliner requires only single camera shoot, single projector playback and does not require any special audience props, such as the use of 3-D glasses. Yet, the audience viewing Musion shows are always left awestruck by the startling realism of the virtual 3D shows.
Using sets starting from just 2m2 sized cubes, projected images range in size from 50cm square, up to a massive 20m x 100m. Live or virtual stage presenters appear alongside and interact with virtual images, humans or animated. Even existing 'made for TV' 2D video material is transformed into compelling footage running in giant floating 3D virtual screens created by the Eyeliner system.
Content can be live or virtual humans, animations (cartoon or computer generated), full sized trucks or automobiles, landscape, property or scenery, even machinery, pharmaceuticals and electronic components and appliances.
Musion is currently looking to increase its Licensee partners around the world. Musion® Systems works with Licensee partners for rights to sell Eyeliner™ installations and create content for broadcasting upon the Musion® Eyeliner™. We would welcome enquiries from live event producers, creative agencies, special effects and quality performing artists worldwide. Specialist AV rental, 3D animation, lighting, rigging, scenic dressing and exhibition stand contractors also provide key elements to a successful Eyeliner installation and are thus potential suitors to act in the capacity of System Integrators or Patentee Agents. For further information contact Ainsley Henn at Musion (e-mail link above) or phone +44 (0) 207 240 9300.
Key Musion programme content includes:
Music artists
FilmTV personalities
Sports personalities
Electronic games
Automotive industry
Aerospace and Pharmaceutical
Non industry specific 2D PowerPoint
Company VIP Executives
Key Musion venues include:
Cinemas / theatrical venues
Pubs/Clubs/Stadiums
Museums
Theme parks/Dark rides
In-store retail
Shopping centres
Airports
Ballrooms
Trade shows
Conferences
Musion Partners on the Project Include:
http://www.toyota.co.uk
http://www.brandwith.co.uk
http://www.squarezero.co.uk
http://www.dimensionalstudios.com
http://www.barco.com
http://www.harknesshall.co.uk
http://www.c2r.co.uk
http://www.c2r.info
http://www.bedlamproductions.co.uk
http://www.prgeurope.com
http://www.electrosonic.com
http://www.atomicarts.net
http://www.avolites.org.uk
http://www.aclighting.com
###