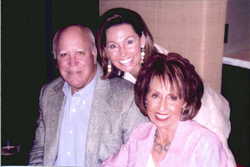 Montgomery, AL (PRWEB) February 23, 2010
Beasley Allen attorney Graham Esdale is in Washington DC this week with three adult children of the firm's deceased client Barbara Schwarz.
Esdale and clients, Margie Louise Meibergen, Sharon L. Brandt and Julie Brandt Mayfield, will be attending the congressional hearings this week and are willing to speak to the media. The group appeared on the CBS Early Show Tuesday morning and later on CNN.
The family of Mrs. Schwarz plans to speak with anyone who will listen as they try and work to bring more attention to the fact that Toyota has yet to recall the 2002-2006 Toyota Camrys which studies have shown may be more susceptible to sudden unintended acceleration.
Barbara Schwarz was killed when the 2005 Toyota Camry she was a passenger in began speeding out of control even after the emergency brakes were applied (action number CJ-2008-7969, District Court of Oklahoma County, State of Oklahoma). The driver of the vehicle was critically injured when the car sped out of control and left the interstate and crashed.
Just yesterday Congress said that Toyota and NHTSA overlooked critical evidence of defects in the electronic throttle control systems on Toyota vehicles as far back as 2004, a claim that Esdale has long asserted.
Esdale, who is with Beasley, Allen, Crow, Methvin, Portis & Miles, P.C. located in Montgomery, AL, is reviewing hundreds of Toyota cases involving Toyota sudden unintended acceleration involving serious injury or death. Beasley Allen also has filed three class action lawsuits on behalf of Toyota owners.
About Beasley Allen Law Firm
Headquartered in Montgomery, Alabama, Beasley Allen is comprised of over 42 attorneys and 200 support staff. Beasley Allen is a national leader in civil litigation, with verdicts and settlements of over $22 billion including the $4.85 billion settlement with Merck on behalf of over 50,000 Vioxx claimants. The Merck settlement led by Beasley Allen was the largest settlement in American history. For more information about our firm, please visit our website at http://www.beasleyallen.com .
Media Contact:
Helen Taylor
(334) 495-1169
(334) 201-2311 cell
(800) 898-2034 x169
public(dot)relations(at)beasleyallen(dot)com
###