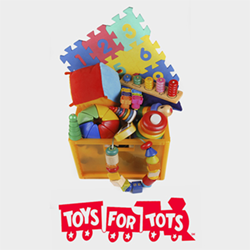 Every child should be able to enjoy a special gift just for them during the holidays, and the Toys For Tots program helps create a magical Christmas for many families throughout our community
Oklahoma City, OK (PRWEB) November 14, 2016
Dumas Insurance Agency, a family owned and operated firm providing insurance services and financial consultation to communities in and around Oklahoma County, is launching a charity initiative that promises to raise support and donations for the local Toys For Tots program.
Sponsored by the US Marine Corps Reserve, the Toys for Tots Program works each year to gather new toys donated by regional families and businesses, and then distributes those toys as holiday gifts to underprivileged families with children. All toys gathered in the Oklahoma City region will be given to qualifying families in nearby areas.
"Every child should be able to enjoy a special gift just for them during the holidays, and the Toys For Tots program helps create a magical Christmas for many families throughout our community," says Larry Dumas Jr., owner and acting director of the Dumas Insurance Agency.
Dumas and his team of professionals are connecting with regional business owners and families to help raise support for the Toys For Tots program and gather toys that will be given as gifts to area children. The Dumas Insurance Agency will also be producing a full page article detailing the charity event for readers of the firm's online magazine "Our Hometown": http://www.dumasinsuranceagency.com/Our-Hometown-Magazine_46.
Half a dozen charitable organizations operating in the Oklahoma City area have enjoyed support from the Dumas team over the last year. Dumas Insurance Agency is an active member of the "Agents of Change" national charity support initiative, and plans to continue supporting area charities on a regular basis.
Anyone who would like to join the Dumas Insurance team and help support the Oklahoma City Toys For Tots program is cordially invited to make a personal commitment to assisting the cause by following this link: http://www.dumasinsuranceagency.com/Toys-For-Tots-Smiles-For-The-Community_10_community_cause. Information regarding past and future charity support campaigns undertaken by the Dumas Insurance Agency team can be found on the company's growing Community Causes roster: http://www.dumasinsuranceagency.com/community-cause.
About Dumas Insurance Agency
The goal of the Dumas Insurance Agency team is to provide the best insurance and financial services in the industry. Their number one job is to protect the current assets customers have worked so hard for, and to help them invest so that they can retire with comfort and security. The success of the Dumas Insurance Agency team is measured in both customer satisfaction and in real value added to client assets. To speak with a helpful and knowledgeable representative from Dumas Insurance Agency, browse to http://www.dumasinsuranceagency.com/ or call (405) 751-4865.