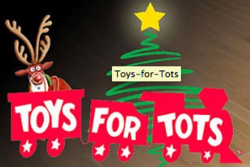 Giving back to the community and being more than a business is one of the main factors of LifeStorage's success.
Chicago, IL (PRWEB) November 28, 2011
LifeStorage, Chicago self storage provider for home and business, records management and office solutions, is holding new toy drives at all 17 of its Chicagoland locations for the U.S. Marines Corps Reserve Toys for Tots program. The collection process is currently ongoing and ends on December 19th. Each LifeStorage functions as a drop-off location in its community, with the Toys for Tots area campaign being coordinated by a Marine, a member of the Marine Corps League Detachment, a member of a local community organization.
Toys for Tots started in 1947 as a local project in Los Angeles and was adopted as a full-fledged Marine initiative and nationwide program in 1948. The program has run each year since and has been a successful and important part of the of the Marine Corps. After almost 50 years of success, in 1995, the Secretary of Defense approved Toys for Tots as an official activity of the U. S. Marine Corps and an official mission of the Marine Corps Reserve, further cementing the campaign's legacy and influence in local communities across the country.
LifeStorage Lead Manager Marc Polizzi has been an integral part of LifeStorage's Toys for Tots drives and sees its success increase each year. "When we learned about the Toys for Tots organization and how just one drop-off location can help so many children and families during the holidays, we knew that if all our LifeStorage locations worked together to help this charity that it would be a huge contribution to the cause. We've been doing this for a few years now and each year we fill more boxes with new toys. LifeStorage has also opened many new storage locations throughout Chicago and Chicagoland suburbs which helps this cause even more."
For LifeStorage, success and expansion are simply new opportunities to help out the communities it serves. Each new LifeStorage that opens becomes another drop-off location for the Toys for Tots campaign, and Toys for Tots is just one of the many charities LifeStorage helps throughout the year. Every LifeStorage location has its own charitable programs, from coat drives to helping local food pantries. Polizzi sees this ideology of giving back to the community and being more than a business as one of the main factors of LifeStorage's success.
"We feel it's very important for our company to do this because it helps the communities that the businesses are near. Without a good community, any type of business wouldn't be as successful. Not many companies these days remember that. It's important to be a good neighbor. We help others in our communities, but it also helps us as a business grow by educating people about the quality services that LifeStorage offers," Polizzi said.
Toys for Tots drop off locations.
###