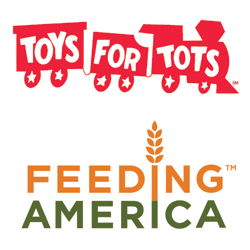 It is important to find ways of giving back at a time when poverty and unemployment levels are on the rise.
Trinity, FL (PRWEB) November 16, 2011
FreightCenter.com is helping to make the season brighter for two charities that annually make a commitment to feed the hungry via Feeding America Tampa Bay and provide gifts to local children in need through the U.S. Marine's Toys for Tots foundation.
Toys for Tots of West Pasco and Feeding America organizations are set to receive sizable donations in the form of toys and bikes for school-age children, as well as, dry goods and canned foods for the hungry across five counties, including: Pasco, Hillsborough, Pinellas, Citrus and Sumter.
"This year, we are especially honored to sponsor Toys for Tots of West Pasco by donating funds for volunteer t-shirts to be worn on distribution day," said Terese Kerrigan, marketing coordinator at FreightCenter.com, "We are also engaging the community by offering a $50 coupon to customers who stop by our corporate office to donate an unwrapped toy or edible dry goods for our food drive."
Based in Pasco county, FreightCenter.com employs about 100 workers who are participating in the company's second-annual toy and food drive. With revenue streams growing at an unprecedented rate, the Web-based freight service provider partners with local charitable organizations that directly impact the community.
"Our employees also enjoy participating in our food drive that supports Feeding America, the organization that oversees the Suncoast Harvest Food Bank. Last year we collected over 600-pounds of food, and we intend to meet or surpass that number this year. It is important to find ways of giving back; especially at a time when poverty and unemployment levels are on the rise," says Kerrigan.
FreightCenter.com employees and executives select several fundraisers throughout the year to provide support for, such as the St. Jude Children's Research Hospital, ASPCA, YMCA and public education. During the next month, the community is encouraged to drop by its corporate headquarters located at 2049 Welbilt Blvd in Trinity to donate an unwrapped toy or food that will go to local families in need.
About FreightCenter.com
Known as the "Orbitz of freight," FreightCenter.com is a leading online freight services provider developing tools that aim to simplify the freight shipping process. Based out of the Tampa Bay area since 1998, FreightCenter.com offers shipping options for LTL, truckload, international, rail and air freight to residential and commercial customers. Combining innovative technology with automated shipping tools that include instant rating, booking and tracking, FreightCenter.com is one of the fastest-growing freight transportation companies. For more information, visit http://www.freightcenter.com.
###