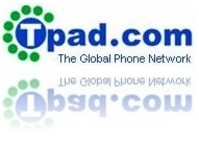 We see these partnerships as providing real value to operators looking to increase ARPU and offer their customers full access to Instant Messaging and social networks without the risk and costs associated with setting this up themselves
Burnley, UK (PRWEB) December 3, 2008
Tpad, a leading provider of internet telephony services, and Nimbuzz, the most comprehensive Instant Messaging, (geo) presence, and VoIP provider, have signed an affiliate agreement in order to compete in the lucrative mobile VoIP market.
Nimbuzz offers the most comprehensive social interaction service combining Instant Messaging, (geo) presence, and VoIP. The free application is available on the mobile, PC and web, for instant messaging, location sharing, (group)calling, and file sharing across popular communities, including Skype, Windows Live Messenger (MSN), Yahoo! Messenger, ICQ, Google Talk, AIM, GaduGadu, Jabber, and 23 social networks including Facebook and MySpace.
Tpad will promote Nimbuzz to their customers on their website from which customers can instantly register and download the Nimbuzz service to their mobile phone and PC. This gives them the capability of easily making free SIP or VoIP calls on their mobile phones to other Tpad users or standard low cost VoIP calls to any landline or mobile in the world.
Once users download the free Nimbuzz application for the mobile and register for free as a new user, contacts from their selected Instant Messaging communities are aggregated into a single contact list with icons indicating real-time "presence" - which contacts are online or offline and from which communities.
Nimbuzz users then can simply add their personal Tpad SIP / VoIP Settings to the application to allow their mobile phone to make and receive low cost VoIP calls anywhere in the world using their personal Tpad SIP number.
"We see these partnerships as providing real value to operators looking to increase ARPU and offer their customers full access to Instant Messaging and social networks without the risk and costs associated with setting this up themselves," comments Evert-Jaap Lugt, CEO of Nimbuzz.
Funded by Mangrove Capital Partners and staffed by award-winning developers and industry experts, Nimbuzz is bringing aggregated IM and social network chat to the mobile and PC. Nimbuzz is growing at well over 10k new users per day and serves over 10 million logins daily.
Tpad is a true global VoIP network and offers users a wide range of VoIP/SIP devices (Softphones, ATAs, IP phones or WiFi mobiles) to make free or low cost calls anywhere in the world with crystal clear quality.
"Tpad aims to provide customers with ever growing calling options and the rapidly expanding market is mobile VoIP," comments Steven Johns, Marketing Manager of Tpad. "The recently signed affiliate agreement with Nimbuzz will allow our Tpad users to freely communicate with each other across different networks worldwide. The cooperation with Nimbuzz is just the beginning of our range of new VoIP services," Johns added.
About Tpad:
Tpad, the world's most flexible communications company, offers next-generation telephony solutions for consumers and businesses. Tpad's new telephony services make it easier and cheaper for people to stay in touch using any device, on any network, anytime, anywhere. The ever-expanding global IP telephony company is based in the UK.
About Nimbuzz:
Nimbuzz has positioned itself to become the largest global communications platform for seamless IP-based communication among mobile devices and social media platforms. Nimbuzz officially launched in May 2008. In July 2008, Nimbuzz was recognized by industry experts at AO Stanford Summit as part of the Global Top 250 technology companies for game-changing technology and market value, and won Best Mobile Startup in its category at Mobile 2.0 Europe. Nimbuzz is headquartered in the Netherlands, with offices in Argentina and Brazil. The company, founded in 2006, and received VC and strategic funding by Mangrove Capital Partners (Skype), Naspers/MIH (Tencent, Mail.ru, Gadu-Gadu, Mweb, Sanook, Tradus) and Holtzbrinck Ventures (Kyte, StudiVZ).
Tpad is a registered service mark of Tpad, Ltd. All other trademarks and trade names are the property of their respective owners.
###