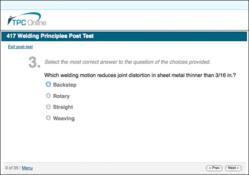 "Doubling the number of test questions helps ensure test security within a facility," said Andrew Kauser, EVP Product Development, TPC Training Systems. "TPC TestMaster can now create a larger number of unique tests."
Buffalo Grove, Illinois (PRWEB) December 13, 2011
TPC Training Systems has added 280 new questions to TPC TestMaster™. The new questions are divided between the four-book Welding Series and the seven-book Mechanical Maintenance Applications Series.
Written by industry experts, the new questions address technical skills discussed in each course. Administrators and trainees will find that each answer is fully annotated, referencing the course, lesson, and paragraph where the correct information can be found.
"Doubling the number of test questions helps ensure test security within a facility," said Andrew Kauser, EVP Product Development, TPC Training Systems. "TPC TestMaster can now create a larger number of unique tests."
This is the second time in the past three months that new questions have been added to TPC TestMaster. In October 2011, TPC doubled the number of questions in its three most popular series: Fundamentals, Electrical Systems, and Mechanical Systems. The three series now feature 3,000 questions related to technical skills. TPC plans more updates and improvement to its training offerings during 2012.
For additional information about the new questions, TPC TestMaster, or TPC Training Systems, visit http://www.tpctraining.com. You can also contact us at 800-837-8872.
About TPC Training Systems: TPC Training Systems is a division of Telemedia, Inc. a privately held company, with headquarters in Buffalo Grove, IL. A leader in industrial skills and safety training, TPC offers a variety of products and services to support clients' technical and safety skills development needs. TPC's self-study manuals, eLearning programs, and instructor-led training classes have been used at more than 40,000 client sites globally to train over 3.5 million skilled workers.
###