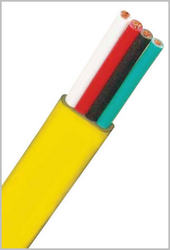 PVC flat cable is a logical compliment to our solutions oriented product line. Our sales team interacts with our design engineers on a regular basis to develop new products which keeps TPC on the leading edge of the wire and cable business
Independence, OH (Vocus) August 27, 2009
TPC Wire and Cable has added a new line of PVC Flat Festoon Cables to its line of highly flexible electrical cable products. As a comprehensive electrical cable solutions provider, the PVC Flat Festoon Cable adds more options to meeting customers' needs.
The flat cable has been designed with festoon systems in mind, however, these cables can be used any where there is limited space or where extreme flexing is required – robots, conveyors, telescoping jet ways, etc. Coupled with reinforced pendent cable, flexible high heat cable, and chemical resistant cable, electrifying a heavy duty lifting apparatus, or any industrial machinery, is a "one stop shop" at TPC Wire and Cable.
"PVC flat cable is a logical compliment to our solutions oriented product line. Our sales team interacts with our design engineers on a regular basis to develop new products which keeps TPC on the leading edge of the wire and cable business," said Tim Burns, TPC's Crane Market Manager.
Superior performance is a function of construction, materials, and matching the right cable to the application. TPC provides high performance problem solving products, custom engineered products, and a dedicated team of sales professionals. Boasting a 96% on time delivery performance, TPC's deep inventory levels allow for quick delivery.
PVC Flat Festoon Cable Features:

600 Volt
- 40° C to 105° C Rated
Oil and Sunlight Resistant
Indoor and Outdoor Rated
Color coded per ICEA Method 1
Yellow Jacketed
About TPC Wire and Cable – TPC is a broad line supplier of high quality, high performance electrical cord, cable, connectors and accessories for the industrial market. They measure their success by the reduction of their customers' downtime and overall maintenance costs through the use of TPC products and services. TPC's line of products includes cables designed for high flex, chemical, high heat, and/or abusive environments. TPC Wire and Cable can be reached at (800) 521-7935 or on the web at tpcwire.com.
###