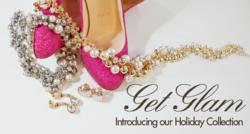 Inspired by the New York city atmosphere during the holiday season, t+j Designs has launched an affordable new collection perfect for gift-giving
Los Angeles, CA (PRWEB) November 03, 2011
t+j Designs, a stylish yet budget-friendly jewelry line, has launched a new collection just in time for the upcoming holiday season.
Available exclusively through t+j Designs' website, this line's main focus is to provide affordable glamour for everyday life. With available items ranging from bracelets, earrings, necklaces, to rings, shoppers everywhere have plenty of choices and now have a little something for the holidays.
In creating the holiday collection, the creative team behind t+j Designs was inspired by the New York city atmosphere during the holiday season: bright lights, snowflakes, and the glamorous windows you encounter walking down 5th Avenue. Infused in this collection are faux pearls, crystals, and touches of gold and silver.
The details on each piece remind you of the baubles and festivities seen decorating the department stores, along with the feeling that the holidays have just arrived. A hint of vintage is also given to these holiday pieces as t+j Designs features wonderful vintage inspired pieces throughout their entire collection.
All pieces are wearable from day to night and all under $100. t+j Designs has created the perfect idea when searching for a great, affordable gift for yourself and others. Samples are available by contacting info(at)tplusjdesigns(dot)com
ABOUT T+J DESIGNS
Tiffany and Jen are the designers behind t+j Designs. Sisters who grew up with a fashionable mother and a passion for all things stylish, sifting through their mother's jewelry box was something they bonded over throughout the years. As they grew up, their love for fabulous and fun jewelry continued. Frustrated with not being able to find the kind of jewelry they were looking for at the prices that they wanted, they created their own line of modern, stylish and classic pieces. Their aim was to create jewelry for women of all ages, at all stages in life, offering pieces that didn't cost a fortune but would be able to go from work to play easily. For more information, please visit http://www.tplusjdesigns.com
###