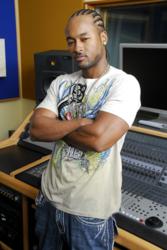 There's a new music industry in 2011. One that is different from the past but not so hard to understand... Kado Records understands. We're ready to do great things. -TQ
Los Angeles, CA (PRWEB) April 20, 2011
R&B veteran TQ has put on a new executive hat by entering into a partnership with new start up label Kado Records, for the purpose of developing and releasing new music from new talent. TQ brings the Indie experience of his own imprint, The HUB Muzic, and merges his efforts with those of this new company, creating a fresh new entity that's ready for the new music industry.
Kado's first Artist "K-Gates" created the well known New Orleans Saints anthem, "Black and Gold (Who Dat)" and is now promoting his new single "Motivation" featuring T-Pain. The video is in rotation at MTV at the moment and will be going to radio soon. Gates also dropped the powerful compilation "The Shaikback" last year in a response to the devastating earthquake in his homeland of Haiti which featured the critically acclaimed single "Yele Haiti"
Kado's second artist hails from Atlanta, GA and goes by the name of "JMidd". "We're really excited about this project. This kid can sing, rap, play guitar, and is one hell of a songwriter! The whole company is revving up for the release of his new single, "Up Up and Away" hails Laura Zatezalo, the CEO, Managing Director, and TQ's partner in Kado Records. "This new single from JMidd has got a lot of potential" claims TQ. "It's the "unofficial" theme song for the NBA and Orlando Magic superstar Dwight Howard who has heard it, loves it, and wants to use it as his introduction song at his home games!" TQ explains that Kado wanted to do something positive for kids here in America and Dwight's Charity, "Shooting Stars" was the perfect avenue. "This organization is set up for the betterment of inner city youth which is something that's close to my heart", TQ states. Shooting Stars receives a large portion of the proceeds from the new single and video which will be available online next Tuesday, April 26th, 2011.
For a sneak preview of the new video click HERE
"I'm interested in building the next great Indie label here" explains TQ. "I think we have the right people and the right resources to ensure that this company puts out great music from great artists for years to come. That's my goal. That's my reason for getting down with this. There's a new music industry in 2011. One that is different from the past but not so hard to understand... Kado Records understands. We're ready to do great things."
Check out http://www.KadoRecords.com
Follow Kado on Twitter!
@KadoRecords
@TQtheTrojan
@JMiddmuzik
@DwightHoward
The New Single and Video "Up Up and Away" from JMidd featuring TQ touches down next Tuesday April 26th, 2011 on iTunes and your favorite online stores.
###