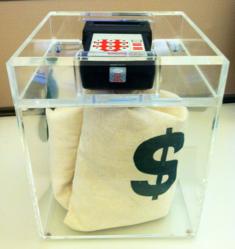 Our goal is to hire 100 of the nation's top salespeople.
Cincinnati, OH (PRWEB) February 20, 2013
Total Quality Logistics (TQL) is hosting a national open house at its Cincinnati headquarters and all 17 of its national satellite locations on Saturday, March 9. The goal: to hire 100 of the nation's top salespeople.
Open house visitors also will have the opportunity to win $60,632. This dollar amount was chosen because it is the average annual compensation of a salesperson who has been selling with TQL for two years. For TQL's top 20% of salespeople, average compensation averages in the six figures. Visitors simply have to choose the correct six-digit code to unlock the vault. The promotion will take place at every TQL office nationwide. Each open house attendee will be limited to one attempt.*
"We work extremely hard here, but we also like to have fun," said Kerry Byrne, TQL executive vice president. "The vault is a way to show off the trademark TQL energy and excitement that we bring to everything we do."
TQL is the second largest freight brokerage in the nation, specializing in truckload transportation. The company is the middleman between shippers who have freight that needs to be moved with carriers who have the capacity to move it. TQL has opened 17 satellite offices across the nation and created more than 1,200 jobs since 2009. The company plans to create 300-400 additional jobs this year, primarily entry-level sales positions.
TQL salespeople are responsible for arranging the movement of more than 14,000 loads of freight every week, negotiating rates between shippers and carriers, and ensuring shipments arrive complete and on-time.
"We operate in a fast-paced industry that requires incredible discipline and an outstanding work ethic. In return, we offer employees an unlimited compensation structure and the opportunity for rapid advancement," said Byrne.
More than 90% of the company's current sales leadership team has been promoted from within.
During the open house, visitors can tour the company's local offices, meet with recruiters, and learn more about the positions available. Qualified job seekers will be able to participate in on-site interviews.
"TQL has grown an average of 30% year over year since our founding in 1997. This is a great way to educate job seekers on our company's aggressive national expansion plans and our high energy culture," said Byrne.
TQL's national open house will take place on Saturday, March 9. The company's corporate headquarters in Cincinnati on Ivy Pointe Blvd will be open from 10:00 a.m. – 3:00 p.m. local time. All satellite offices other than Chicago, including TQL's additional Greater Cincinnati offices, will be open from 10:00 a.m. – 1:00 p.m. local time. TQL's downtown Chicago office will be open from 9:00 a.m. – 11:00 a.m. local time.
For more information on the company, the locations of its local offices, or job opportunities available, visit the company's web site at http://www.tqljobs.com.
About Total Quality Logistics
Total Quality Logistics is the second largest freight brokerage in the nation, with more than $1.3 billion in annual sales. The company, founded in 1997, is privately-held and headquartered in Cincinnati, Ohio, with 17 additional satellite locations across the nation. TQL was ranked among the nation's 150 Top Workplaces in 2013 in one of the largest-ever surveys of U.S. companies, with more than 1 million employees participating nationwide. TQL also was named by Inc. Magazine as a leading company for creating American jobs and by Glassdoor as one of the top companies for career opportunities. TQL employs more than 2,000 nationwide.
*The prize vault promotion and each participant must meet the eligibility requirements set forth in the applicable Terms and Conditions and agree to be bound by the Terms and Conditions.