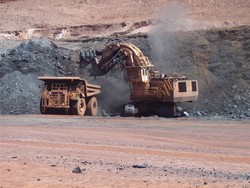 Never before has Western Australia experienced a growth period like this - it is the first time ever that the mining, oil and gas and construction sectors have boomed at the same time
(Vocus) November 11, 2010
Australia is one of the top 3 most resource-rich countries in the world (behind South Africa and Russia), but with a population of less than 23 million, it is also one of the most sparsely populated. It is this imbalance that brings international recruitment firm TR7 to the U.S. this month.
It is the booming economy of the vast state of Western Australia (with a population of just 1.5 million) that is crying out the loudest for more Oil and Gas, Mining, Construction and Engineering workers
"Never before has Western Australia experienced a growth period like this - it is the first time ever that the mining, oil and gas and construction sectors have boomed at the same time" explains TR7 Director, Shane Anderson.
"Take just two examples: Chevron's $50 billion Gorgon oil and gas project needs 5,000 people and Citic Pacific Mining needs 10,000. We simply do not have enough skilled workers to meet this unprecedented demand".
The construction and production associated with multiple oil and gas projects off the Western Australian coast is mind-boggling. Western Australia has never seen a boom such as this, and the trend is expected to continue for the next 20 years, and beyond.
Why Look To The U.S.?
TR7 has sponsored workers into Australia for years, but tougher immigration laws require workers to have a specific level of English language proficiency. This has ruled out many workers from non-English speaking countries.
"We understand that many workers in the U.S. have suffered as a result of the Global Financial Crisis, and see this is a great opportunity for them to recover, both economically and socially." said Mr Anderson.
Our countries have a similar heritage, language, and way of life, so the prospect of 'culture shock' is nowhere near what it would be if workers were to move to mining environments in, say, China or Africa.
The Jobs
TR7 is looking for skilled trades people such as heavy duty fitters with experience on mining equipment, along with mechanics, welders and fabricators, machinists, drillers and geologists.
Engineers are also in great demand, particularly, but not limited to, Mining, Civil, Petroleum, Reservoir, Construction and Subsea Engineers. Both onshore and offshore personnel are needed.
Mr Anderson will be in the U.S. from November 11- 24 to spread the word about the employment opportunities now available in Australia.
Applicants are invited to visit the TR7 website to view the jobs available and complete the application process.
Media enquiries regarding this U.S. visit are welcome.
About TR7
Established in 2003, TR7 is an Australian owned and based company that specializes in the recruitment of industrial and professional personnel for its clients in the mining, oil and gas, engineering, construction and associated industries.
The company provides a suite of industry-related services that encompass training, industrial relations, immigration and safety management. http://www.tr7.com.au.
###