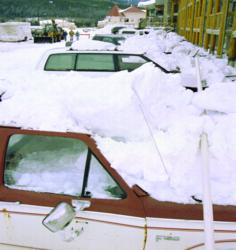 Many of the projects had some snow retention devices but they would be laying in perfect condition on top of their destroyed car
American Fork, UT (PRWEB) February 01, 2012
TRA-MAGE, Inc. stands behind their claims that snow and ice sliding off a roof, damaging property and threatening people below, can be prevented by engineering complete roof systems, not just selling products. TRA-MAGE also engineers solar mounting systems that mount solar panels to roofs and the ground.
Founder, Terry Anderson, explains why his company employs a competent engineering staff, "Often I would be inspecting a roof and find that snow and ice had plunged off the roof and destroyed cars, gutters, landscaping, or decks below. Snow retention devices had been installed on many of the projects but they would be laying in perfect condition on top of their destroyed car.
"Obviously, there was a problem with the system's design, but when I contacted snow retention manufacturers; I was told that the only thing they recommended was one row of snow guards around the perimeter of the roof. When I asked if snow load, slope, or sheathing type made a difference, I was told no. I knew that these factors should be considered in the design, so red flags went up."
Anderson knows that engineering is critical for a safe design that is why TRA-MAGE's focuses on this service. Jacob Anderson (BS in Civil Engineering) and Travis Washburn (BS in CAD/CAM Engineering Technology) were recently added to TRA-MAGE's staff. TRA-MAGE's engineers use computer programs which take these and other factors into consideration when designing a roof system for snow areas or for mounting solar panels.
CAD/CAM Engineer Travis Washburn says these programs "enable the customer to visually see our products and how they work. The customer has an idea and they provide the details. Then we engineer a complete system, eventually turning the idea into reality."
Civil Engineer Jacob Anderson adds, "Engineering is important to every system. As an example, if you drive around a heavy snow area and pay attention to the roof snow retention systems you'll see many failed and damaged systems due to inadequate engineering or no engineering whatsoever. If you talk with roofing contractors in the area they'll admit that snow retention is one of the most common roofing failures in snow areas. Engineering solar is required by code, and we'll do that for free. This design process is fundamental to protect investments of thousands of dollars."
TRA-MAGE, Inc., located in American Fork, Utah, offers Roof Snow Retention Devices, Solar Mounting Systems and Roof Flashing Solutions. They provide all customers, from the individual homeowner to the big developer, free engineered designs of all their systems. For more information call Jacob Anderson at TRA-MAGE at 800-606-8980 or visit snow.tra-mage.com
###