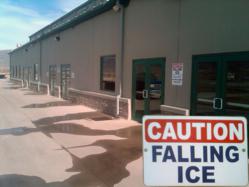 We needed to prevent injuries and damage and we wanted a company that was local and offered a dependable solution.
(PRWEB) November 30, 2011
Laughing might be a natural response to watching as an animated character slams the door on a chalet and the snow from the roof comes crashing down on his head. However, several people who were outside of Cowboys' Stadium last February didn't think it was funny when snow fell off of that roof. One man required surgery for his broken shoulder and he felt lucky he wasn't injured further. Snow and ice coming down on top of you is anything but funny.
Utah's Wasatch County Special Events Center was primed for a dangerous accident like Cowboys' Stadium. Those who built the center in 2006 designed it with a gentle 1:12 roof slope for which sliding snow and ice wouldn't be much of a problem. They were very wrong. Falling snow and ice created a major threat to people below. Managers posted signs warning of falling ice. The gutter is still damaged from the ice and snow crashing over the eave.
By 2011 Quinn Davis, Wasatch County's Building Inspector, knew it was only a matter of time before someone was seriously injured. He found a solution to this problem with TRA-MAGE's snow fence and snow clamps.
According to Davis, "We needed to prevent injuries and damage and we wanted a company that was local and offered a dependable solution." With more than 1200 linear feet of snow fence to install, he liked how easy TRA-MAGE's system was to put in. "Two guys did 300 feet in 4 hours. The clamps come pre-assembled with all the nuts and bolts so installation was easy and fast." The project was completed in November.
Jacob Anderson, TRA-MAGE's Snow Retention Technical Specialist, explains what happens on all roofs. "When snow starts to melt and water begins running downward under the snow on the roof surface, friction is reduced and suddenly the snow loses its grip, avalanching toward the eave."
"Using our past experience with conditions like those in Wasatch County, we at TRA-MAGE were able to design a system to fit this project's exact specifications," Anderson adds. "We engineered it for a 1/12 slope and a 94 pound per square foot (PSF) snow load. We also used snow clamps designed exactly for the dimensions of that particular metal roof seam. We provide this same free service for anyone with a problem with snow and ice falling off the roof, threatening people and causing damage."
This attention to the slope, snow load and roof type is paramount when designing a system that will work. "Each job is different, but the concerns are the same," says Terry Anderson, President of TRA-MAGE, Inc. "Prevent damage to property and risk to people whether it's a chalet in the mountains or a large commercial complex. At TRA-MAGE, Inc. it's this focus on engineering that makes all the difference."
TRA-MAGE, Inc., located in American Fork, Utah, manufactures engineered roof accessory system. They produce solar mounting system for both photovoltaic and thermal applications and roof snow retention systems including snow guards and snow fences. Both snow and solar product lines are easily installed on nearly any style of roof or roofing material. TRA-MAGE - the engineering makes all the difference. For more information please contact us at 800-606-8980 or visit snow.tra-mage.com.
###