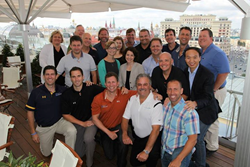 This group truly demonstrates Performance Health's commitment to research and education.
Akron, OH (PRWEB) May 22, 2014
The eighteen individuals appointed to Performance Health's Academy's 2014 Scientific Advisory Committee (SAC) represent five countries and expertise in physical therapy, chiropractic, exercise science, athletic training and massage therapy, and exemplify diversity in disciplines and cultures. The SAC meets once a year at its annual TRAC meeting to present research and findings on TheraBand, Biofreeze and Cramer Sports Medicine products.
2014 Scientific Advisory Committee Members:

Lacy Alexander, PhD, Penn State University, State College, PA, USA
Lars L. Andersen, PhD, National Research Centre for Working Environment, Copenhagen, Denmark
David Behm, PhD, Memorial University of Newfoundland, St. Johns, Newfoundland, Canada
Barton N. Bishop, DPT, SCS, CKTI, TPI CGFI-MP2, CSCS, Sport & Spine Rehab, Washington, DC, USA
Tony Brosky, PT, DHS, SCS, Bellarmine University, Louisville KY, USA
Duane Button, PhD, Memorial University of Newfoundland, St. Johns, Newfoundland, Canada
Juan Carlos Colado, PhD, University of Valencia, Valencia, Spain
Todd S. Ellenbecker, DPT, MS, SCS, OCS, CSCS, Physiotherapy Associates, Scottsdale, AZ, USA
Jeff Forman, PhD, NCTMB, De Anza College, Cupertino, CA, USA
Jay Greenstein, DC, Sport & Spine Rehab, Fort Washington, MD, USA
Andre Labbe, PT, Owner, Total Package Performance, LLC, New Orleans, LA, USA
Michael Rogers, PhD, CSCS, FACSM, Wichita State University, Wichita, KS, USA
Mary Sanders, PhD, FACSM, RCEP, CDE, University of Nevada, Reno, NV, USA
Robert Topp, PhD, RN, Marquette University, Milwaukee WI, USA
Timothy Tyler, PT, MS, ATC, Pro Sports PT, Scarsdale, NY, USA
Michael Voight, PT, DHSc, OCS, SCS, ATC, CSCS, TP1-3, FAPTA, Belmont University School of Physical Therapy, Nashville, TN, USA
Leo Y.L. Wang, PT, MPH, PhD, Department of Rehabilitation Medicine of First Affiliated Hospital of Sun Yat-sen University, Guangzhou, China
Kathleen Wolin, ScD, FACSM, Loyola University Chicago, Stritch School of Medicine, Chicago, IL, USA
"I am proud of and often times humbled by the distinguished individuals serving on our advisory committee, now in its sixteenth year. At last year's annual TRAC meeting, 25 projects with findings ranging from sports performance and exercise prescription to neck and elbow pain treatments were presented," stated Phil Page, PhD, PT, ATC, CSCS, FACSM, Global Director of Clinical Education and Research for Performance Health. "In addition to the significant body of research presented, last year's members published over 31 papers and abstracts, including 11 collaborative projects during a twelve month period. This group truly demonstrates Performance Health's commitment to research and education."
Click here to read the Scientific Advisory Committee Members' bios.
About TRAC
Since its founding in 1999 as the TheraBand Research Advisory Committee, the annual TRAC meeting has evolved to include more disciplines and broader research initiatives across multiple product lines. The attending Scientific Advisory Committee members review and discuss research they have conducted on Performance Health products and identify clinical research needs. The 2014 meeting is being held from August 5-8 at the Stein Eriksen Lodge in Park City, Utah.
About the Academy
The TheraBand Academy was formed to scientifically document the benefits of resistance exercise and pain relief, guide the company in its development of new products and exercise programs, and to promote therapeutic exercise and pain management through professional and consumer education. The Academy web site is a unique resource that connects healthcare professionals and consumers to the ever growing body of knowledge on exercise. Registration is free and provides access to the largest database of rehab exercises, protocols, research and education in the world.
About Performance Health
Featuring leading brands like Biofreeze®, Bon Vital'®, TheraBand™, Cramer®, Prossage® and Pedigenix®, Performance Health offers a broad portfolio of products for the therapy, rehabilitation, wellness, massage, sports medicine, performance and podiatric markets. In addition to market-leading products, Performance Health provides practice building support, evidence-based protocols, clinical and product education, turn-key dispensing and pain management solutions.