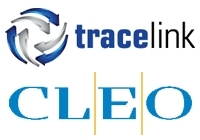 Cleo's VLTrader simplifies connection and improves data exchange for the TraceLink Network. Companies of any size in the Life Science supply chain can quickly integrate and start building value-add partnerships on TraceLink's collaborative supply network.
Woburn, MA and Loves Park, IL (PRWEB) November 11, 2010
TraceLink, Inc., provider of the World's 1st Industry-Wide Supply Collaboration Network, and Cleo Communications, leading provider of secure enterprise Managed File Transfer (MFT), today announced that TraceLink will integrate Cleo's VLTrader solution into the TraceLink Network to manage secure information exchange between supply chain participants in the cloud. TraceLink conducted a thorough review of numerous MFT providers and determined that Cleo had the best functionality to both meet and exceed the needs of TraceLink Network members. By using VLTrader's Drummond Certified secure multiprotocol communications platform, TraceLink can offer Network members scalable data transfer and integration flexibility when connecting to TraceLink's "integrate-once, interoperate with everyone" transaction platform.
"The key concept behind our "integrate-once" platform is to reduce the friction of getting companies connected by providing them with a single, flexible integration point to their supply network in a hosted service," said John Kordash, vice president of SaaS and chief information officer, TraceLink Inc. "VLTrader's bullet-proof and efficient handling of critical information such as inventory, production status and quality review data made it the obvious choice for the TraceLink Network. The ability to use the VLTrader API to give our platform a single, consistent view of data movement across the network is also a key benefit."
VLTrader will be an integral component of the TraceLink Network, a network application helping to connect Life Science companies and other brand owners to their material suppliers, contract manufacturing / packaging partners and distribution partners. The Network does this by providing an integrated transaction platform, shared business objects and collaborative team workspaces that connect business owners to precise and timely supply network information from all network participants.
VLTrader's inherent flexibility provides for both large and small trading partner enablement in one consolidated, easy-to-use solution. VLTrader provides a connectivity benefits that reduces time-to-value for the TraceLink Network, including:

Secure multiprotocol communications to meet a variety of B2B requirements
High-performance and availability to ensure that business owners always have the precise and timely data that their businesses demand
Scalability and flexibility that makes the TraceLink Network accessible for Tier-1 pharmaceutical companies, small biopharmas and supply partners of all sizes
Visibility into data movement that provides real-time feedback
"The TraceLink relationship is a perfect example of the benefits that VLTrader, our enterprise Managed File Transfer solution, can bring to a business whose service is hosted and born into the cloud," said Todd Enneking, vice president of business development, Cleo Communications, "The advanced features in VLTrader can be leveraged by the enterprise and shared with their trading partners, large or small. Enablement is key to both of our businesses. TraceLink works to enable rich supply chain partnerships across the Life Sciences supply chain and we at Cleo enable our customers to consolidate their communications and secure their mission-critical data better than ever before."
The combined solution of Cleo's VLTrader and the TraceLink Network shows great potential for accelerating supply network performance in the cloud. VLTrader has been tested and proven in the cloud and is a strong foundation to support TraceLink's future plans for expanded supply network services.
About TraceLink:
TraceLink brings the ease of connectivity, integration and collaboration found in social networks to today's global supply chain through the TraceLink Network. The TraceLink Network is a Cloud-based platform that prevents counterfeits, detects diversion, minimizes inventory, reduces cycle-time and ensures on-time delivery for all members of the supply chain by integrating its participants into a network of interoperable, collaborative business processes shared across companies. Brand owners and their supply chain partners quickly forge high-value partnerships by connecting with an "integrate-once, interoperate with everyone" transaction platform, an integrated set of shared business objects and a collaborative team workspace that puts key and actionable supply network data into the hands of business owners.
TraceLink is funded by FirstMark Capital, a venture capital firm managing more than $2 billion in capital commitments. For more information on TraceLink and our solutions, visit http://www.tracelink.com.
About Cleo:
Cleo Communications provides proven, secure, advanced software solutions to companies that have enterprise-wide Managed File Transfer needs. Powerful, easy-to-use software helps clients secure, manage and consolidate data while meeting the most comprehensive requirements of multiprotocol communications. VLTrader, Cleo's flagship Managed File Transfer solution, helps businesses across numerous vertical industries save money, optimize IT resources, consolidate communications, streamline workflows, control ad hoc communications, meet SLAs and regulatory compliance mandates. Comprehensive reporting keeps customers in the know. With over 30 years of EDI experience, Cleo solutions are customer and partner-ready to help move businesses forward today. Find out more at http://www.cleo.com.
###