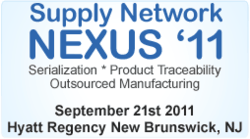 (PRWEB) September 08, 2011
TraceLink, Inc., developer of the TraceLink Network, the world's first industry-wide supply collaboration network, will be discussing business strategies, operational plans and technical solutions for Life Science contract manufacturing / packaging optimization, pharmaceutical serialization and supply chain traceability preparedness in September at the upcoming Contract Pharma 2011 Contracting and Outsourcing Conference and the Supply Network NEXUS '11 life science leadership event.
At Contract Pharma 2011, being held on September 22-23rd 2011 at the Hyatt Regency in New Brunswick NJ, visitors to the TraceLink Booth 105 will experience software solutions for:

Improving manufacturing KPIs, reducing supply risk and eliminating manual data entry in outsourced production though complete integration, visibility and collaboration with every point in the outsourced supply network and across all phases of the production lifecycle
Enhanced monitoring, measurement and control of the multi-enterprise quality review process in a collaborative environment that connects virtual quality team members, provides secure information exchange and displays automated performance dashboards for batch record reviews, change control and event / incident reviews
Secure mobile authentication of pharmaceutical serial numbers and drug product identity using Android-based smart phones for barcode scanning and SMS text message entry
At NEXUS '11, being held on September 21st 2011 also at the Hyatt Regency in New Brunswick NJ, TraceLink hosts Life Science business and technical leaders for a one-day conference examining how to improve outsourced production performance, create strategic supply network relationships and ensure secure track and trace compliance across the global Life Science supply network. Attendees at NEXUS '11, including leading pharmaceutical companies, CMOs/CPOs, wholesale distributors / 3PLs and other supply chain participants, will hear ten sessions led by industry leaders on topics including:

The Value Chain Transformation in Life Sciences
Global Serialization and Traceability – Regulations and GS1 Standards
Track and Trace Pilot to Commercialization Timelines
Track and Trace Architectures and Technologies (serialization, EPCIS, ePedigree)
Track and Trace Requirements for the External Supply Network
Improving KPIs in Outsourced Production – Research Study Results
A Network Approach to Supply Collaboration and Visibility
Improving Customer Service through Outsourced Manufacturing Collaboration
Joint Value Creation across External Supply Relationships
The Strategic Architecture to Ensure Supply, Capacity and Quality
Registration for NEXUS '11 is still open and more information on the event is available at http://www.tracelink.com/supply-network-nexus-11.
To discuss our solutions for integrating the supply network, improving production visibility, enhancing pharmaceutical quality review coordination and ensuring pharmaceutical serialization and traceability compliance, visit http://www.tracelink.com.
About TraceLink:
TraceLink helps companies and business leaders across the Life Sciences supply chain connect and collaborate to improve manufacturing and supply chain performance through the TraceLink Network. The TraceLink Network is a Cloud-based platform that prevents counterfeits, detects diversion, minimizes inventory, reduces cycle-time and ensures on-time delivery for all members of the supply chain by integrating its participants into a network of interoperable, collaborative business processes shared across companies. Pharmaceutical / biopharmaceutical companies and their supply chain partners quickly forge high-value partnerships by connecting with an "integrate-once, interoperate with everyone" transaction platform, an integrated set of shared business modules and a collaborative team workspace based on social networking principles that puts key and actionable supply network data into the hands of business owners.
TraceLink is funded by FirstMark Capital, a venture capital firm managing more than $2 billion in capital commitments. For more information on TraceLink and our solutions, visit http://www.tracelink.com.
###