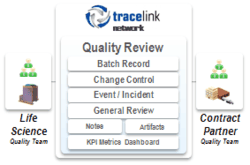 Quality teams in outsourced production relationships can ensure a transparent, predictable and repeatable quality review process for every product. The increase in review monitoring and measurement ensures quality, reduces risk and speeds closure.
Woburn, MA (PRWEB) July 21, 2011
TraceLink, Inc., developer of the TraceLink Network, the world's first industry-wide supply collaboration network, today announced the release of TraceLink Quality Review, the first service designed to help virtual quality teams from pharmaceutical / biopharmaceutical companies and their CMO / CPO partners exchange, analyze and track quality reviews across all outsourced production relationships. By using Quality Review's collaboration, information management and performance monitoring capabilities, QA / QC teams can create a transparent, predictable and repeatable quality review process while gaining real-time visibility into current review status and performance for every project and every production relationship.
"As outsourced production of pharmaceuticals increases, virtual quality teams struggle to efficiently monitor, measure and control quality review processes typically based on phone, FAX and email communications," said Shabbir Dahod, President and CEO at TraceLink, "Quality Review is a quality information management service that connects quality teams across external supply relationships and ensures that all team members have access to the precise and timely information they need to reduce risk, ensure quality and meet production schedules."
TraceLink Quality Review directly addresses the root causes of poor visibility, coordination and performance throughout the outsourced production quality review process. Selected capabilities include:

Exchange, analysis and tracking of batch record, change control, event / incident and general quality reviews in a collaborative team workspace
Integrated KPI dashboard providing real-time information on current and historical quality review performance across all supply relationships
Integrated communication and feedback trail, including comments and documents, for each iteration of the review cycle
Alerts and status indicators that highlight when information has been submitted, viewed, modified or needs attention
Quality review and production order linkage to increase insight into potential impacts of schedule or project changes and speed research into identified issues
"Whether mandated by customers or regulatory authorities, visibility is essential. Business leaders want to see quality issues and manage these risk before they become problems," said Simon F. Jacobson, Research Director, Gartner Inc. (*), "Data is everywhere, resulting in information latency and quality issues, prolonged cycle times and increased costs."
"The addition of Quality Review to the TraceLink Network's supply network collaboration platform expands our ability to provide manufacturing, supply chain and quality leaders with an integrated solution for managing outsourced production from purchase order initiation through to final product delivery," added Dahod, "Using TraceLink's integrated business process modules for production tracking, material tracking, inventory monitoring and quality review combined with ProcessLink collaborative team workspaces, virtual supply teams gain shared visibility and real-time data to improve right-first-time order fulfillment, shrink production cycle times, decrease inventory levels and eliminate manual data entry across all manufacturing and packaging operations."
To learn more about TraceLink's solutions to optimize quality management across outsourced production, visit http://www.tracelink.com.
*Gartner, Inc., Best Practices for Taking Quality Beyond Manufacturing and Into a Business Capability Supporting the Value Chain, Simon F Jacobson, February 16, 2011.
About TraceLink:
TraceLink helps companies and business leaders across the Life Sciences supply chain connect and collaborate to improve manufacturing and supply chain performance through the TraceLink Network. The TraceLink Network is a Cloud-based platform that prevents counterfeits, detects diversion, minimizes inventory, reduces cycle-time and ensures on-time delivery for all members of the supply chain by integrating its participants into a network of interoperable, collaborative business processes shared across companies. Pharmaceutical / biopharmaceutical companies and their supply chain partners quickly forge high-value partnerships by connecting with an "integrate-once, interoperate with everyone" transaction platform, an integrated set of shared business modules and a collaborative team workspace based on social networking principles that puts key and actionable supply network data into the hands of business owners.
TraceLink is funded by FirstMark Capital, a venture capital firm managing more than $2 billion in capital commitments. For more information on TraceLink and our solutions, visit http://www.tracelink.com.
###