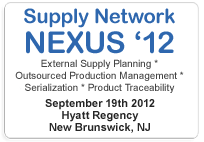 Woburn, MA (PRWEB) September 12, 2012
TraceLink Inc., helping businesses securely supply every global market opportunity on-time and in-full with the TraceLink Business Cloud, will be discussing strategies, operational plans and technical solutions for improving performance and ensuring compliance in Life Science external supply and pharmaceutical traceability at the upcoming Supply Network NEXUS '12 life science leadership event and Contract Pharma 2012 Contacting and Outsourcing Conference.
For more information or to register for NEXUS '12 (September 19th, Hyatt Regency, New Brunswick NJ), visit http://www.tracelink.com/nexus-12.
NEXUS '12 is where industry leaders come together to create new relationships and share new ideas for the key issues facing global pharmaceutical supply, production and distribution operations. Life science leaders will discuss:

The Pharmaceutical Supply Chain – A Strategic Look Forward
Supply Planning for the Virtual Supply Network
Global Serialization and Traceability – Regulations and Standards
Building Your Global Pharmaceutical Traceability Infrastructure
Pharmaceutical Traceability Strategy and Planning Playbook
California ePedigree, EFPIA, India, China, Brazil and more: A Global Approach
Performance Excellence with a Collaborative Supply Management Platform
Increasing Supply Chain Confidence and Performance in Product Launch
The CMO Business Case for Supply Network Collaboration
Keynoting NEXUS '12 are two visionary leaders:

Peter Bigelow – President of SHA LLC, former interim CEO/President, North American Operations at Patheon and SVP Manufacturing at Wyeth Pharmaceuticals
Roddy Martin – SVP Global Supply Chain & Manufacturing Transformation at Competitive Capabilities Int'l, former VP and GM Value Chain Strategies at AMR Research
Others sharing their insights include leaders from Pfizer, Merck, Teva, GS1, Dirk Rodgers Consulting, Catalent Pharma Solutions, Sharp Corporation and more.
TraceLink's NEXUS '12 is designed for leaders from pharmaceutical / biopharmaceutical companies, CMO / CPOs, pharmaceutical distributors/3PLs and pharmacies. Supply chain, manufacturing, technical operations, IT, quality and procurement teams will gain actionable knowledge for their organizations.
At Contract Pharma 2012 (September 20-21st, Hyatt Regency, New Brunswick NJ), visitors to the TraceLink Booth 105 will experience software solutions for:

Development of a collaborative global supply network that improves manufacturing KPIs, reduces supply risk and eliminates manual data entry though system-to-system integration, shared visibility and cross-functional, cross-company collaboration with every point in the external supply network
Deployment of an integrated global track and trace solution for serialization, ePedigree, government reporting and product authentication regulations
Creation of an external pharmaceutical quality management system with enhanced oversight and information sharing across the multi-enterprise quality review process in a collaborative environment
Secure mobile authentication of pharmaceutical serialization data and drug product identity using Google Android-based smart phones for barcode scanning and SMS text message entry
To learn more about TraceLink's solutions for creating an integrated and collaborative supply network, reducing risk through external quality management and oversight, improving supply planning with agile S&OP collaboration and protecting from drug counterfeiting as in the recent Genentech's Avastin and Eli Lilly's Prozac incidents with serialization, ePedigree and track and trace solutions, visit http://www.tracelink.com.
About TraceLink:
TraceLink helps companies securely supply every global market opportunity on-time and in-full through the TraceLink Business Cloud. The TraceLink Business Cloud is a cloud-based application platform that connects business transactions, partner networks and professional relationships across companies and functions. The result is improved visibility, predictability and performance across global supply, manufacturing and distribution operations. The TraceLink Business Cloud combines an "integrate-once, interoperate-with-everyone" transaction translation platform, user-managed business collaboration workspaces and cross-linked business process modules on a globally elastic cloud infrastructure to help companies realize their strategic goals in improving global supply network performance.
TraceLink is funded by FirstMark Capital, a venture capital firm managing more than $2 billion in capital commitments. For more information on TraceLink and our solutions, visit http://www.tracelink.com.