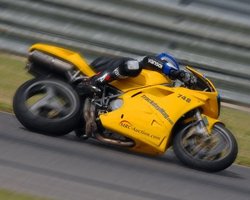 "High performance riding should be done on the track, not on public roads," says Chris Onwiler, Senior Editor of TrackdayMag.com. "But be forewarned; once you've experienced riding your sportbike at the track, street riding may lose its appeal!"
Chicago, IL (PRWEB) February 5, 2010
TrackdayMag.com launches the 2010 track day season with over 1,000 events at 50-plus tracks from nearly every motorcycle track day and riding school organizer in the country. Users can view every trackday or riding school event at any track in the country in a unique format complete with track maps, lap videos and rider comments. Whether you are searching for your favorite tracks' events or you have a free weekend and want to see what's available across the country, TrackdayMag.com makes it easy.
For 2010, several new tracks were added including Monticello Motor Club in Monticello, New York, Inde Motorsports Ranch in Wilcox, Arizona and Chuckwalla Valley Raceway in Desert Center, California. New Jersey Motorsports Park(NJMP) claimed top honors for most enthusiastic support of motorcycle track days with over 70 events scheduled with at least 8 different schools or track day organizers. Several new schools were also added, including the Yamaha Champions School at Miller Motorsports Park in Utah.
In addition to the track day calendar, TrackdayMag.com features how-to articles, track reviews and product reviews from everyday riders which give the site a community feel. There is also an ongoing project bikes series sponsored by CrankyApe.com, the leading online auction site for total loss and repossessed RVs and recreational powersports equipment. And the company recently announced a special program with sponsor Lithium Motorsports which gives TrackdayMag.com readers significant discounts on purchases at http://www.Lithiummotorsports.net.
###