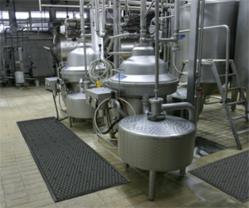 The new diamond pattern grit top of Traction Hog II mats has proven to be more effective in slip-resistance than most other industrial mats
Cleveland, OH (PRWEB) June 20, 2013
Martinson-Nicholls new Traction Hog II slip-resistant industrial mats provide secure footing in both wet and dry areas. Featuring a new, diamond patterned grit top surface, the new mats provide improved footing in wet and oily environments.
According to company president Dan Ruminski, "The new diamond pattern grit top of Traction Hog II mats has proven to be more effective in slip-resistance than most other industrial mats."
The mats are made from high-density, closed cell nitrile rubber cushion with 15% recycled content. The mats are grease and oil proof, chemical resistant, and welding safe. Traction Hog II features beveled edges for safe transition from mat to the floor.
These industrial mats also include a lifetime anti-microbial treatment to prevent odors and degradation of the mat.
A drainable version of the mat provides drainage holes to allow liquids to flow off the mat. Both Traction Hog II mat products use a backing designed to reduce the movement of the mat, even with cart traffic.
Traction Hog II mats are flexible for easy handling, and recommended for industrial applications, kitchens, coolers, and freezers.
They are offered in 3' x 5' and 3' x 9' standard sizes.
About Martinson-Nicholls
Martinson-Nicholls, has established itself as a leader in custom anti-slip tape, floor mats, and eco-friendly products for more than 25 years.
Martinson-Nicholls provides the customer with the exact size matting needed--small, large, standard, nonstandard, special shapes and logos. Custom installations are also a specialty of the company.
Anti-slip safety tapes and treads are available in various sizes and textures from hand cut or die cut pieces to full rolls and special shapes. For more information, please visit http://www.floormat.com.