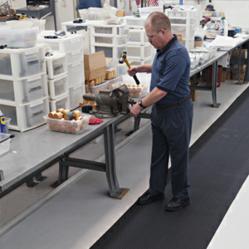 We've found the aggressive diamond pattern of Traction Tread to be more effective in slip-resistance than most other mats
Cleveland, OH (PRWEB) April 18, 2012
Martinson-Nicholls new Traction Tread Slip-Resistant Indoor Matting covers large areas, providing secure footing in both wet and dry areas. The durable Nitrile rubber matting is designed to outlast traditional foam mattings. It also is resistant to many chemicals, is UV-protected, grease- and oil-proof, welding-safe and static dissipative.
The new matting includes a special, anti-microbial treatment for germ-free applications in potentially wet areas. Traction Tread is offered in two versions:
1. Traction Tread 1/8" thick matting for laboratories, locker rooms, parts departments, and other commercial and industrial applications.
2. Traction Tread Soft, 1/4" thick matting, intended for production locations, walkways, protecting gym floors, food service areas, and other applications where the additional thickness enhances the matting's anti-fatigue properties.
Both versions are offered in 33, 44, and 58 inch wide by 40-foot long rolls. Martinson-Nicholls can supply the rubber matting in special sizes, or will permanently seam matting to fit special size requirements.
According to company president Dan Ruminski, "We've found the aggressive diamond pattern of Traction Tread to be more effective in slip-resistance than most other mats."
About Martinson-Nicholls
Martinson-Nicholls, has established itself as a leader in custom anti-slip tape, floor mats, and eco-friendly products for more than 25 years.
Martinson-Nicholls provides the customer with the exact size matting needed--small, large, standard, nonstandard, special shapes and logos. Custom installations are also a specialty of the company.
Anti-slip safety tapes and treads are available in various sizes and textures from hand cut or die cut pieces to full rolls and special shapes. For more information, please visit http://www.floormat.com.