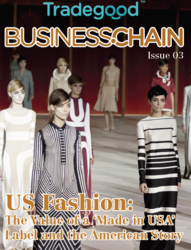 New York, Hong Kong (PRWEB) June 06, 2013
Tradegood, a B2B sourcing community that connects responsible buyers with trusted suppliers, has released the third issue of Business Chain on Apple® iBookstore globally. Featuring lead story "US Fashion: The Value of a 'Made in USA' Label and the American Story," this interactive magazine provides professional insights into the hottest topics in global sourcing trends and analysis of the opportunities in and threats to emerging markets.
In this issue, Business Chain takes an in-depth look at the US market, exploring "The Value of a 'Made in USA' Label" and analyzing President Obama's second-term trade policies toward China. It also examines the consequences of a murky supply chain surrounding the horsemeat scandal which shocked the Europe recently. Tips on back-up sourcing and successful business cases can also be found in the magazine.
Tradegood's unparalleled supply-chain relationship has also brought in contributing articles from leading industry groups and business organizations, including the American Apparel and Footwear Association (AAFA), Trendstop.com, and MAGIC, enabling Business Chain to cover a wide range of topics from industry professionals.
Tradegood's network covers more than 100 countries, enabling close relationships with major industry groups, making it the opinion leader in different industry landscapes, and providing up-to-date sourcing information to Business Chain readers.
A quarterly online magazine, Tradegood's Business Chain Issue 3 is now available to download for free from 51 Apple® iBookstores in the United States, United Kingdom, Germany, France, Australia and elsewhere, for viewing on an iPad. To download the iBook, please go to: https://itunes.apple.com/us/book/business-chain-issue-3/id645417159?ls=1.
Please stay tuned for our next issue in August 2013.
About Tradegood
Tradegood is a B2B sourcing community that connects responsible buyers with trusted suppliers. By verifying suppliers' identities, capacity, capabilities and compliance performance, Tradegood provides buyers with the information they need to choose the right people and organizations to form their global supply chain. For suppliers, Tradegood opens the door to the world's biggest markets through leading brands, retailers and industry relationships. Backed by Intertek's more than 127 years experience in inspection and verification across the supply chain ecosystem, Tradegood's global network spans more than 100 countries, providing quality information to help companies do business right. For more information, please visit: http://www.iTradegood.com.