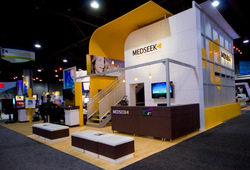 In the past few months, Metro Exhibits has taken a large step forward in expanding our operations on both coasts. To support that growth we've added new team members Salvatore Buscema and Jay York.
Fairfield, NJ (PRWEB) April 27, 2010
Metro Exhibits is adding new executive staff members to support recent company growth including an expanded client base and operational capabilities. With offices in New Jersey and Las Vegas, Metro Exhibits offer custom, modular, and portable trade show exhibit solutions along with a full range of trade show services. In addition Metro Exhibits specialize in cost effective printing of all communications, advertisements and marketing tools.
"In the past few months, Metro Exhibits has taken a large step forward in expanding our operations on both coasts. To support that initiative I'm pleased to announce that we are adding members to our executive team with the key additions of Salvatore Buscema and Jay York," says Phil Zamloot, president of Metro Exhibits. "Specializing in sales and marketing, they also bring tremendous management experience. They will play a vital role in our continued commitment to our client's satisfaction."
Salvatore A. Buscema has joined Metro Exhibits as Executive Vice President. Salvatore has over 15 years of progressively responsible business management and sales experience with recognized expertise in marketing and product management Prior to joining Metro, Salvatore was Vice President, Sales at MiddleBrook Pharmaceuticals were he led the hiring and development of the sales team, worked closely through all cross functional areas and led MiddleBrook's initial and ongoing trade show/exhibit presence. Prior to joining MiddleBrook, Buscema held multiple roles of increasing responsibility at Adams where he led two sales force expansions, orchestrated and developed all trade show responsibilities, directed a comprehensive sales force automation project and facilitated trade sales. The Adams field sales team under Buscema's leadership grew their Mucinex and Delsym brands from $20 million to over $400 million annually. Buscema began his sales career at IMS Health where his key accounts included Johnson and Johnson and AstraZeneca.
Jay York has joined the Metro team as a Vice President, Sales. Jay has 9 years of pharmaceutical sales and marketing experience. Prior to joining Metro Exhibits, Jay was an Associate Vice President of Sales at MiddleBrook Pharmaceuticals. Consistently managing at a high level, Jay played a vital part in the development of the sales team and worked closely with marketing and sales operations. In addition Jay consistently led his team to high performance and led the country in total sales. Before MiddleBrook, Jay York was Regional Business Director at Adams Respiratory Therapeutics where he managed a district sales team consistently ranked in the top 3 for Mucinex and Delsym sales. Jay started his pharmaceutical career working for Novartis where he was a top producer specializing in hypertension products.
About Metro Exhibits: Metro Exhibits is a leading manufacturer of trade show exhibits nationwide that also provides complete marketing and print solutions. The company specializes in the design, creation, and service of custom trade show exhibits. Additionally, the company provides portable, rental, and modular exhibit solutions of all sizes and budgets.
# # #