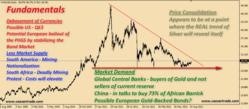 Dayton, Ohio (PRWEB) August 21, 2012
After careful study and analysis, CaesarTrade is bringing a new trading focus to its clients. The company is announcing it has found great potential to trade silver. Furthermore, CaesarTrade believes that trading this commodity, when it has the potential to reach its historic high, canl prove quite lucrative. Such analysis is based on the fundamentals of shortages, strikes, and mine nationalization; combined with a period of rapid consolidation that has proven to indicate silver's future trading potential.
In the last few years, CaesarTrade analysts took note as South Africa lost its title as the largest precious metal miner in the world due to energy shortages, subsequently raising input costs and prompting calls for the nationalization of all mines in the country. Now the country is facing bloody worker strikes at the mines that never end well and reduces supply. Similarly, a few weeks ago, the executive team at CaesarTrade noticed Bolivia begin the proces of nationalizing its Silver mines. The last time a strike occurred in the Potosi region of Bolivia (2010), silver went from $14 to $49 an ounce.
Additionally, there is speculative talks of a stimulation in Europe that will involve capping the rate of Spanish and Italian bonds. With a stagnant economy, high unemployment, and a rising default rate, the US may also step up QEIII. Consequently, such actions tends to stimulate strength in commodities, such as silver; especially by two of the largest economies.
Additional demand is coming from large investors, such as George Soros, the man who shorted the bank of England, and John Paulson, who is a known hoarder of precious metals like silver. China is now in talks to buy out Barrick Gold's 73% stake in its African Holding. What's more, central banks worldwide are putting a bid to gold as it has stopped selling its reserves.
With demand holding strong during a dwindling supply and a period of consolidation that has kept both gold and silver at very elevated prices, CaesarTrade is announcing to the public and prospective clients that this is the time to trade silver.
About CaesarTrade
CaesarTrade is the world's most exclusive online Forex and CFD brokerage company headed by Eric Harbor who has been involved in commodities for over 20 years and updates clients daily as well, and Cliff Wachtel, the highly regarded forex educator and published author of The Sensible Guide to Forex. All clients receive a genuine guarantee of the lowest, and most affordable pricing. For more information on forex trading visit: http://www.CaesarTrade.com.