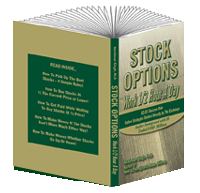 It is hard to believe that about 95% of people who trade options end up losing money but they still keep on trading options the old fashioned way.
(PRWEB) May 29, 2013
Author Dr. Harsimran Singh, is pleased to announce the release of his newest book, 'Stock Options-Work ½ Hour a Day'.
It may be hard to believe but 95% of Americans who trade stock options lose money more often than they make money. Dr. Singh feels that one of the main reasons for people losing money is because they get their advice from advisers who are ill-informed. In his words, "They are like swimming instructors who teach people how to swim without ever going in the water themselves."
For Dr. Singh, it is much different. He has jumped into the deepest of waters, having traded more than $100 million in his personal account in the stock market. Throughout this experience, Dr. Singh has tried many different strategies to find which ones work best. Acquiring this knowledge cost him millions of dollars. But now, in his book, 'Stock Options-Work ½ Hour a Day', Dr. Singh offers you his valuable knowledge and experience for the mere price of a book.
Over the course of Dr. Singh's experience in trading, he has been shocked to discover that most brokerage houses discourage people from trading options. But in this book, Dr. Singh encourages people to trade, as he has analyzed different strategies for bull, bear, and neutral markets and relayed his successful strategies.
The readers of this book should expect to find direct, simple-to-follow strategies on how to trade in the stock market that Dr. Singh has been profitable with. However, the stock market is always a gamble and must be experimented with on spare money. As one becomes more familiar with the market, they will begin to recognize trends and that may increase their success in profiting from their investments.