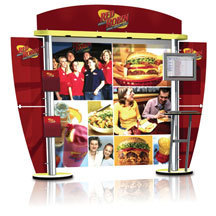 10 Tips for a Successful Trade Show
Greensboro, NC (PRWEB) February 21, 2008 -
AppleRock Trade Show Displays announces the release of its "10 Tips for a Successful Trade Show" guide. As an industry leader in creating custom trade show displays, custom exhibits, and custom rentals for clients, we have applied our expertise to creating this useful guide for planning successful trade shows.
Apple Rock provides original and creative design solutions and graphics for trade show displays. Our talented and experienced staff guide clients through each step of the creative process and create visual environments that turn heads! We have award-winning designers who take creativity to the next level. Ranging from simple table top displays to innovative custom displays, we create the most effective visual impact for your trade show display.
Companies planning their trade show budgets know that a visually appealing and engaging trade show display, booth or kiosk is key to their success. Companies have options ranging from affordable pop-up displays, truss banner stands, islands, and custom 50 x 50 foot booths.
Our guide recognizes that customers have multiple options to them on the market today. As a full service custom trade show display provider, we assist clients to choose the best display solution to meet this trade show goals. Whether looking for light-weight and easily transportable pop-up displays, to the expandable and sturdier truss mounted displays, clients can select a visually appealing option. Our custom printing provides customers with one-of-a-kind displays.
As a leading provider of Nomadic custom displays, we can tailor displays to capture the attendees' attention. These displays can be rented or purchased through our company website.
Before deciding how much money to spend on a display booth or custom environment, companies should take advantage of AppleRock's expertise by reviewing our "10 Tips for a Successful Trade Show" guide and then work with one of our trade show consultants to tailor a custom design or rental to ensure that your marketing budget is well-spent.
About AppleRock
AppleRock is an established leader in providing Trade Show Display solutions. We are a full service design house focused on superior service, quality products, and original designs. From concept, to design to dismantling…we are your one-stop source for all of your trade show and event planning needs.
###