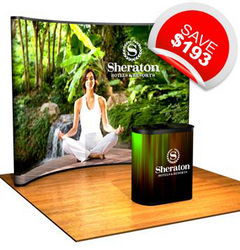 Lorton, VA (PRWEB) August 5, 2009
Capital Exhibits often hears companies say it is not even worth going to a trade show. Those same companies are the same ones who are losing more and more money each day by not making smart investments in their sales and advertising models. Today Capital Exhibits launched a new website to underscore the importance of strategically investing in your company's image.
Selecting the right trade show and developing appealing banner stands that attract eyeballs is more crucial now than ever before. That said, there are companies that simply decide to slash all sales associated costs and decide to no longer exhibit their products. Therefore, Capital Exhibits is issuing a challenge to all companies. Show evidence that eliminating trade shows from the sales strategy helped grow a company and then issue a press release proving such.
Capital Exhibits clients are going to more trade shows than in the past because they are smart about their presentations and use exhibit displays that strongly promote the value of their products or services. Those interested in increasing their sales turn to Capital Exhibits for assistance. Take a moment to look at their redesigned website to see how Capital Exhibits are able to make such bold statements.
Capital Exhibits have an on-site graphics team that will work with clients to provide design layouts that are most conducive to their needs. Capital Exhibits also offer off-the-shelf systems that are unique and user-friendly. These are used for time-sensitive display schedules and feature speedy delivery, (1-3 day delivery time for banner stands and 2-3 days delivery time for basic pop-ups, and 7-14 days for complete graphic kits.)
About Capital Exhibits
Capital Exhibits, a division of Universal Development Corp., is a design and exhibit house dedicated to integrating a unique business strategy and memorably creating the best image. Capital Exhibits was established in 1994, and was first launched to provide customers with innovative graphic design for trade show display products.
Capital Exhibits exclusive trade show displays are used effectively in retail shops, malls, trade shows, events, museums, shopping centers, company show rooms, galleries, individual use, exhibition organizers and various other business environments. Capital Exhibits have a wide variety of sizes and shapes to serve any customer need, including banner stands, pop-up displays, truss systems, tabletop displays, table drapes and display stands pieces.
People who are new to trade shows, events and sales presentations, Capital Exhibits experts will guide them with a simple and effective display products. From the quick banner stands, trade show displays, trade show exhibits, pop up displays, portable exhibits, tabletop displays and trade show booth we will find the best solution for their marketing needs quickly and affordable. Clients who are seasoned veteran of exhibiting will surely find our products to be high-quality and effecting in comparison to other products available. Most of our products are designed and manufactured in the US, and Capital Exhibits pride ourselves on their ease-of-use and durability in high-traffic settings.
Capital Exhibits also have customized trade show layouts with a maximum two-week delivery time. These are complete with your company's branding on the panels, as copied from your submitted and approved print artwork.
Whatever the scope of the project is, our approach is simple - visionary ideas, exceptional creativity, strategic thinking, personal service and a "Can Do!" attitude.
CONTACT:
Fred Jafarzadeh
Capital Exhibits
(866)730-3746
(703)339-9844
http://www.capitalexhibits.com
###