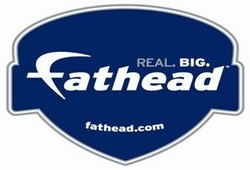 What the heck are Fathead Tradeables?
LIVONIA, Mich. (PRWEB) May 11, 2008
Still, some might wonder: "What the heck are Fathead Tradeables?" Let's start from the beginning. A Fathead is a life-size, hi-def wall graphic of fan-favorite athletes and entertainment icons. They're easy to put up and safe for walls. Tradeables captures the spirit of the Real.Big®Fathead line in a fun 5" x 7" kid-size package.
Within this small, but action packed package, there's much more than meets the eye - three types of NFL Tradeables for starters. Authentics Tradeables are exact replicas of the players featured in the REAL. BIG. ® Fathead Line and also include the team logo and a coin image of the player. The Game Time Tradeables roster includes additional players from every NFL team. To sweeten the pot, each package contains a HelmetTradeable. Tradeables peel off their backing and stick to just about anything: walls, ceilings, lockers, computers, binders, and your overly affectionate, cheek-pinching aunt. Okay, maybe not your aunt…but certainly everywhere else!
Then comes the kicker. No, not Adam Vinatieri. This kicker comes printed on an insert included in every pack: a unique secret code. This code can be used on Tradeables.com to unlock games, prizes, a web page Tradeables fans can personalize and much more!
Fathead plans to launch Tradeables in retail stores nationwide this July. They will also be sold on Tradeables.com and Fathead.com.
Fathead VP of Marketing, Aaron Chestnut, "The early response from kids and retail partners alike has been tremendous. Fathead Tradeables offer what our REAL. BIG. product does not…the ability to bring great NFL images with you and stick them anywhere. We fully expect that it will be this year's back to school/holiday phenomenon."
Want a sneak peek at Fathead Tradeables before the rest of the world? Visit Tradeables.com now. For more information please contact MeganTarsha@Fathead.com or 734.386.5924.