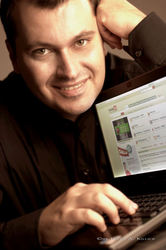 Wilmington, DE (PRWEB) November 12, 2007 -
– Tradebit.com, the online digital goods marketplace, announces its recent updates. New features on the file sharing site allow for easier publishing of digital goods. Now everyone with a good photo, MP3 recording or collection of Christmas poems can upload and start selling files within minutes.
"With more than 9,000 active merchants and 2.5 million downloads a day, Tradebit.com has reached a milestone as the download marketplace," says Ralf Schwoebel, founder and CEO of Tradebit, Inc. "Tradebit.com was profitable within three months of its 2005 launch and has relaunched five times since than to help our users more easily and quickly participate in file sharing activities."
The file sharing marketplace's new functionality allows anyone to upload and publish any kind of software. After uploading, the site automatically creates video previews, product images and payment buttons for the seller. Payments are processed by Paypal or Clickbank.
Tradebit.com is host to prominent partners such as CDbaby.com, the service company for independent musicians. The site also hosts well-known Hollywood directors who sell their podcasts on the platform (http://www.tradebit.com/filedetail.php/732879).
About Tradebit.com
Based in Delaware, Tradebit Inc. is a 100 percent privately held company focusing on digital goods and online promotions. Tradebit.com started as a single server system and has grown into a big Linux cluster within two years. It turns several hundred thousand US dollars in micropayments every month. Everyone with a digital good can participate. Company founder and CEO Ralf Schwoebel is an e-commerce and search engine specialist from Germany who is very active in the US webmaster scene.
For more information about Tradebit.com, the online digital goods and file sharing marketplace, visit http://www.tradebit.com.
Contact Information:
Tradebit, Inc.
Ralf Schwoebel, CEO
Phone: (484) 685-4535
Fax: (480) 275-3582
# # #