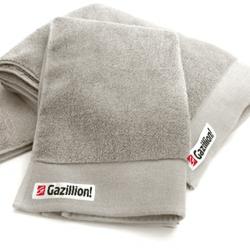 Creating a more effective and trusted connection for buyers and suppliers in the 38 billion dollar US hospitality sector
(PRWEB) April 26, 2013
Tradegood, a B2B global sourcing community connecting responsible buyers with trusted suppliers, announces its new partnership with Gazillion!, a revolutionary new marketplace business headquartered in Nevada, United States, connecting prominent hotel and gaming chains, including Tamarack Junction Casino, Atlantis Casino Resort Spa, Peppermill Resort Hotel Casino, Silver Legacy Resort Casino and the Eldorado Hotel Casino directly to original manufacturers.
This new partnership creates an innovative opportunity for original manufacturers to build a direct presence in the USA serving the 38 billion dollar US hospitality sector. Tradegood will offer pre-screened quality suppliers who have gone through the unique "Business done right" verification process, inherited from Intertek's 127 years of experience in the supply chain quality domain to Gazillion! buyers, and thus help creating an efficient marketplace in the hospitality sector.
"Gazillion! and Tradegood are "reinventing commerce" blending Tradegood sourcing experience with Gazillion!'s revolutionary methods for streamlining the supply chain, eliminating trading companies, brands, distributors and bringing original manufacturers access directly to end-users to elevate their global reach and gain more control in the management and future of their businesses. Tradegood's pre-screened verified factories, compliant with the highest quality standards and delivered through Gazillion!'s online marketplace, provide buyers with assurances they are purchasing the best value available anywhere in the world," says Mr. Richard Rubsamen, President of Gazillion!.
"We are very pleased to partner with Gazillion! to provide Tradegood suppliers a preferred access to the US hospitality industry. Using Tradegood's quality database and global network, we can carefully match pre-screened suppliers with Gazillion!'s buyers," says Mr. William Quilindo, Chief Operations Officer, Tradegood. "This partnership ensures every level of compatibility and transparency across the supply chain."
Tradegood and Gazillion! will embark on a China road show to introduce Gazillion!'s revolutionary new marketplace and begin the process of developing Gazillion!/Tradegood authorized suppliers. Mr. Richard Rubsamen, President, Gazillion! and Mr. David Alpert, Founder, Gazillion! will be some of the business leaders in the industry to join the delegation from the United States.
Tradegood Gazillion! Workshops in China:
May 13 Shanghai
May 14 Wuxi
May 15 Ningbo
May 17 Quanzhou
May 20 Dongguan
May 21 Chaozhou
May 22 Shenzhen
In the workshops, Tradegood members will learn more about the Gazillion!/Tradegood program which provides them an opportunity to directly reach buyers who have ongoing supply needs and are ready to place an order. They will also meet with Gazillion! representatives in business matching sessions.
About Tradegood
Tradegood is a B2B sourcing community that connects responsible buyers with trusted suppliers. By verifying suppliers' identities, capacity, capabilities and compliance performance, Tradegood provides buyers with the information they need to choose the right people and organizations to form their global supply chain. For suppliers, Tradegood opens the door to the world's biggest markets through leading brands, retailers and industry relationships. Backed by Intertek's more than 127 years of experience in inspection and verification across the supply-chain ecosystem, Tradegood's global network spans more than 100 countries, providing quality information to help companies do business right.
For more information, please visit http://www.iTradegood.com.
About Gazillion!
Gazillion! is revolutionary new marketplace with an objective to reinvent the supply chain by eliminating all middle levels of distribution between factories and buyers, by establishing connections with factories providing quality certification assurance through Tradegood and end-to-end logistics. Gazillion! is the pathway to a considerable amount of savings for businesses on their indirect spends purchases, while offering buyers a supply and value chain with total transparency and zero redundancy.
For more information, please visit http://www.gazillionworld.com.