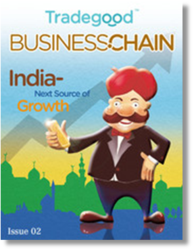 TradegoodTM, the leading Global Sourcing Community proudly
presents: Business Chain Issue 2 Interactive magazine now on Apple® iBookstore! Featuring stories on 'India—the Next Source of Growth', and 'The Return of Mad
(PRWEB) February 07, 2013
Tradegood, the Global Sourcing Community that connects responsible buyers with trusted suppliers, has released the second issue of Business Chain on Apple® iBookstore globally. Entitled "Business Chain – India, the Next Source of Growth", this interactive magazine provides an analysis of the latest global sourcing trends and discusses the hottest issues among supply-chain professionals.
Tradegood's network covers more than 100 countries, enabling close relationships with major industry groups, making it the opinion leader in different industry landscapes, and providing up-to-date sourcing information to Business Chain readers.
For those looking to extend their sourcing capabilities, Business Chain probes the latest developments in emerging sourcing markets, including the world's second-largest nation India, as well as Vietnam and Burma, and provides tips on how to get business done right. It also provides an in-depth analysis of the resurgence of 'Made in the USA' and the rise of private labels.
A quarterly online magazine, Tradegood's Business Chain Issue 2 is now available to download for free from 50 Apple® iBookstores, including the United States, United Kingdom, Germany, France and Australia, for viewing on an iPad. To download the iBook, please go to: https://itunes.apple.com/us/book/business-chain-issue-2/id598127506?ls=1. Please stay tuned for the next issue in May 2013.
About Tradegood
Tradegood is a B2B sourcing community that connects responsible buyers with trusted suppliers. By verifying suppliers' identities, capacity, capabilities and compliance performance, Tradegood provides buyers with the information they need to choose the right people and organizations to form their global supply chain. For suppliers, Tradegood opens the door to the world's biggest markets through leading brands, retailers and industry relationships. Backed by Intertek's more than 127 years of experience in inspection and verification across the supply chain ecosystem, Tradegood's global network spans more than 100 countries, providing quality information to help companies do business right. For more information, please visit: http://www.iTradegood.com