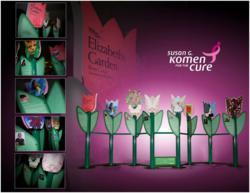 "In memory of our colleagues and in an effort stop cancer, we believe the exhibit best showcases the artists' work while sharing the message of hope for the cure." - Chris Stone, president of The Trade Group
Dalls, TX (PRWEB) June 07, 2011
The Trade Group of Dallas, Texas, a full-service manufacturer of trade show exhibits, designed and helped create the new "Passionately Pink" 15-foot-wide "Elizabeth's Garden Breast Cancer Awareness Exhibit" on display Saturday, June 11, at this year's Susan G. Komen North Texas Plano Race for the Cure®. It will also be featured at the inaugural Susan G. Komen Denton Race for the Cure® this September 24, 2011, as well as additional locations across North Texas throughout the year.
"It is a great honor to show our commitment to the North Texas Affiliate of Susan G. Komen for the Cure in this manner especially after experiencing our own recent losses of employees from breast cancer," says Chris Stone, president of The Trade Group whose clients include Dell, Dr Pepper, Frito Lay and Frost National Bank, to name a few. "In memory of our colleagues and in an effort stop cancer, we believe the exhibit best showcases the artists' work while sharing the message of hope for the cure."
The imaginative exhibit comprised of artwork contributed by prominent artists like Shannon Kincaid, Dahlia Woods, Frank Campagna, Benito Huerto, Susan Rios and others, including survivor Carroll Swenson-Roberts, debuts Race morning in "Elizabeth's Garden." A tradition of the annual June Race for the Cure in Plano since 2004, Elizabeth's Garden features 17-inch by 22-inch pink coroplast tulip and butterfly designs decorated, personalized, then staked for "planting" to celebrate friends and loved ones all year long.
"The swirl of 'long-stem artist tulips' conceptualized by The Trade Group team are a welcome addition to "Elizabeth's Garden" and a wonderful statement for awareness reminding everyone that early detection truly does save lives," says Lora Williams, Elizabeth's Garden chair and Komen volunteer since 1997, who began the awareness project in 1999 in honor of her friend, Elizabeth Martinez Guardiola, a longtime North Texas Affiliate volunteer and founder of the award winning Hispanics for the Cure™ team.
Ideal for public viewing with a large demographic draw, "Elizabeth's Garden Breast Cancer Awareness Exhibit" is made of powder-coated aluminum extrusion making it light and easy to assemble and disassemble. The state-of-the-art design creatively displays donated artwork by 11 prominent artists on unique tulip shaped canvases for breast cancer awareness. The pieces vary from Katrina Doran's three-dimensional pink and pearl untitled mosaic tulip to George Fowler's metal sculptor "Libertus." Each custom "bloom" rests on emerald green "stems" while information on the Komen North Texas Affiliate, the Race for the Cure, Elizabeth's Garden history, and artists' stories are rendered on complimenting panels designed to look like leaves.
"We are very proud to have The Trade Group as one of our local sponsors, and excited they have also formed a team participating in this year's Plano Race," Williams continues. "Together, we truly are making a difference in the fight against breast cancer."
Inspired by Komen's Passionately Pink for the Cure® program, the exhibit also reminds the community there is no time like the present to make a difference. For more information, log on to http://www.passionatelypink.org. Also learn about Nancy G. Brinker's promise to her dying sister to do everything in her power to end breast cancer forever. In 1982, that promise became Susan G. Komen for the Cure and launched the global breast cancer movement we know today.
About the Komen North Texas Affiliate
The North Texas Affiliate of Komen for the Cure® is working to better the lives of those facing breast cancer in the local community. Through events like the Plano Race, the Komen North Texas Affiliate has invested $9 million in local breast health and breast cancer awareness projects in Collin, Cooke, Denton, Fannin, Grayson, Hunt, Montague and Wise Counties. Of the funds Komen North Texas raises, 75 percent is invested in North Texas. The remaining 25 percent goes to the national Susan G. Komen for the Cure Grants Program to fund scientific research.
About the Trade Group
Headquartered in Dallas, Texas, The Trade Group is a family owned business founded in 1986 with additional offices in Austin, San Antonio, Oklahoma City, Tampa and Pittsburgh. The company has delivered more than 40,000 trade show exhibits since its inception and serves hundreds of companies nationwide. For more information, call 800-343-2005 or email
kshort(at)tradegroup(dot)com. Media inquiries for The Trade Group may be directed to Carrol Van Stone at 304-671-0244 or email at carrol(at)marketingzen(dot)com.
Additional thanks to sponsors of "Elizabeth's Garden Breast Cancer Awareness Exhibit" including all the artists, Octanorm, Quality Powder Coating and Read & Write Company.
To register online and attend the June 11 Race for the Cure in Plano and/or the first-ever Race for the Cure in Denton, log on to http://www.komennorthtexas.org. For additional information call 972-772-4808 or follow us on Facebook, Twitter or YouTube.
Media Contacts:
Carrol Van Stone
The Trade Group/Marketing Zen
304-671-0244
carrol(at)marketingzen(dot)com
Lora Williams
Elizabeth's Garden Chair
Susan G. Komen for the Cure North Texas Affiliate
972-772-5560
readwrite(at)sbcglobal(dot)net
Cristina Riccio Kenny
Susan G. Komen for the Cure North Texas Affiliate
214-282-9212
ckenny(at)komnenorthtexas(dot)org
###