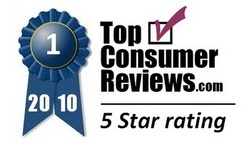 Legal Zoom can save you thousands of dollars over hiring a trademark attorney to provide the same services
Overland Park, KS (Vocus) July 12, 2010
TopConsumerReviews.com recently awarded their highest five-star rating to Legal Zoom, an industry leader in Trademark Registration services.
A trademark is a unique name, phrase, word, logo, symbol, design, image, or combination of these items that is used to identify a business, individual, or other legal entity. Online companies can assist you with a trademark search to make sure your name isn't already in use, register your trademark for you, and provide monitoring to make sure no one else tries to take your trademark away. The trademark can be used to identify your business itself, and/or your business products and services. In this way, a trademark can be used to protect your business from its competitors.
"Legal Zoom can save you thousands of dollars over hiring a trademark attorney to provide the same services," explained Brian Dolezal, of TopConsumerReviews.com. "Legal Zoom offers a very thorough process to help any business move forward securing a trademark. They offer trademark search, trademark registration, trademark monitoring, and more. Additionally, Legal Zoom provides a wealth of information to help guide you through obtaining your trademark. For their professional, comprehensive service, Legal Zoom earns our highest rating."
To find out more about Legal Zoom and other Trademark Registration services, including reviews and comparison rankings, please visit the Trademark Registration category of TopConsumerReviews.com at http://www.topconsumerreviews.com/trademark-registration/.
About Legal Zoom
LegalZoom.com is the nation's leading online legal document and filing service. Co–founded by attorney Robert Shapiro in 2001, LegalZoom.com offers a convenient and cost–effective way to take care of common legal needs. LegalZoom service offerings include: Wills, Living Wills, Incorporation, LLC Formation, Living Trusts, Powers of Attorney, Divorce, Small Claims, Trademarks, Patents, Copyrights and more. LegalZoom.com is not a law firm and does not provide legal advice or counsel.
About TopConsumerReviews.com
TopConsumerReviews.com is a leading provider of independent reviews and rankings of hundreds of consumer products and services. From passports and prepared meals, to wholesale dropshippers and home security systems, TopConsumerReviews.com delivers in-depth product evaluations in order to make purchasing decisions easier.
# # #