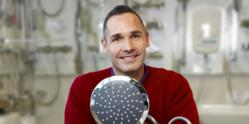 Four in five people prefer .co.uk websites when searching for a product or service online, so it is crucial to consider the correct domain when registering one
Colchester, Essex (PRWEB UK) 20 February 2013
TradePlumbing is pleased to have been chosen to support the .uk domain and promote its benefits to UK businesses.
The estimated value of online shopping in the UK in 2012 was £78 billon, and with four in five people preferring .co.uk websites when searching for a product or service online it is crucial to consider the correct domain when registering one.
TradePlumbing Managing Director undertook a photo shoot in his Colchester showroom with the resulting images now taking pride of place on the .co.uk website, along with an interview and an incite into the founding of the business.
He commented, "Being a British online business, we've always been very aware of the importance of having a .uk domain name, so we were thrilled when .co.uk asked us to be part of their campaign to encourage more businesses to register a .uk domain and inform them of the benefits of doing so. I started TradePlumbing.com from home, and nine years later I am proud to employ 12 members of staff and supply customers from across the UK. Undoubtedly our .uk domain name has been instrumental in helping us achieve that."
For more information on registering a .uk domain, visit http://www.agreatplacetobe.co.uk.
TradePlumbing.co.uk has been trading online since 2006 and was launched as a result of the emerging eCommerce trend and the owner's family history in the field of running Plumbing and Heating Merchants and Showrooms. TradePlumbing stocks a wide selection of discount shower enclosures and shower doors, all backed with excellent customer service.