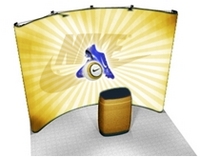 Chicago, IL (PRWEB) September 22, 2009
Productive Portable Displays and Graphics, a company dedicated to designing and building quality, eye-catching tradeshow booth designs, business graphics and signs, announces that its president, Bruce Ulrich, has been recognized as the New Member of the Year award by the Business Marketing Association (BMA) of Chicago.
The award was given as a result of Ulrich's efforts leading the Education committee, which developed the chapter's inaugural internship program. The Education program is supported by the association's biggest fundraiser, the Windy City BizBash, and helps support programs that train future marketing leaders.
"I'm so honored to be the recipient of the BMA Chicago New Member of the Year award. It's definitely been a busy year for us at Productive Portable Displays and Graphics and for me personally. Our Chicago trade show booths are known around the industry for having some of the most fun, exciting and eye-catching designs in the business, and it's thanks to the creativity and innovation of our fantastic designers," said Bruce Ulrich of Productive Portable Displays and Graphics.
Productive Portable Displays and Graphics has been designing unique displays since 1996 and its products include banner stands, pop-up displays, panel systems and vinyl banners, as well as booth designs including features such as display cases, lighting and literature racks. The firm's trade show booth design capabilities are only limited by the space restrictions at each show.
"Our customers know they can count on us for all their tradeshow needs, whether they need a simple banner or an intricate, multi-paneled trade show booth. We invite all of our potential customers to come visit our Chicago showroom. If you're unable to visit, give us a call or send us an email -- we're happy to send potential customers pictures of our eye-catching and one-of-a-kind displays," said Ulrich.
About Productive Portable Displays: Since 1996, Productive Portable Displays and Graphics, Inc. (http://www.productivedisplays.com) has grown to become an established leader in the design and production of trade show booths and exhibits in the United States. Productive Portable Displays and Graphics is known for its unsurpassed quality in providing unique graphic design services and support for tradeshow and outdoor corporate events. The firm's expansive product offering ranges from portable displays to large-scale island exhibits and also offers Display Care, a comprehensive tradeshow asset management program.
###