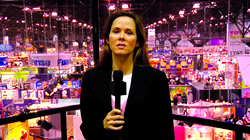 Today, the media mix continues to expand, and video content continues to grow as an important source of information and a valuable part of the sales dynamic
New York (PRWEB) June 24, 2008
At a recent trade show for broadcast television equipment manufacturers, Matrox Video Products Group, a technology and market leader in the field of high and standard definition (HD and SD) digital video hardware and software decided to turn the cameras on themselves, with the help of Trade Show News Television (http://www.tradeshownews.tv).
"We used Trade Show News Television to introduce Matrox MXO2, an innovative new video input and output device for the Mac, at the recent National Association of Broadcasters convention in Las Vegas," said Janet Matey Marketing Communications Director. "The Trade Show News clip has proven to be a very cost-effective way to get our message out to a wider audience and to maintain the excitement and buzz we generated at the show. I'd like to make this an integral part of every new product launch we do."
The expanding use of streaming video has been well documented. comScore's Video Metrix service reported that in February 2008, U.S. Internet users viewed more than 10 billion online videos during the month, representing a 66-percent gain versus February 2007.
Bob Lipp, founder of Trade Show News Television was pleased that more and more exhibitors were including a news-style streaming video from his company as part of their marketing program, but he wasn't surprised. Lipp, a long-time advertising executive, who has spent much of his career promoting major video and communications equipment companies, knew that online video advertising of trade show exhibits was the perfect marketing tool.
"With streaming video and other transmission advances, viewing video on the Internet is instant. Long download time is a thing of the past," said Lipp, who created Trade Show News Television as an extension of his online advertising services. "Video is a highly effective way to communicate a marketing message online, plus when created at a trade show, the video extends the life of the exhibit long after the show has ended."
NewBay Media, a leading media company, selected Trade Show News Television to create news-style streaming video productions at a recent trade show. In addition to offering exhibitors an attractively packaged online distribution program, NewBay Media sees other major benefits to online streaming video content.
"Today, the media mix continues to expand, and video content continues to grow as an important source of information and a valuable part of the sales dynamic," said Eric Trabb, VP/Group Publisher Broadcast/Video Division, NewBay Media. "This represents an exciting opportunity for our company as we help our advertisers reach their buying market through our various print and online assets. Now, money that may have been spent on sales literature and postage is being spent on online sales tools that can deliver results more cost-effectively."
"Businesses spend a great deal of money to be at trade shows, but when the show is over, it's over," said Lipp. "Trade Show News Television changes that with news-style streaming videos that exhibitors can use to promote their products and services over and over online, re-purposing the digital video medium as online ads, email blasts, dealer and sales person support materials, and so much more."
To learn more about Trade Show News Television visit http://www.tradeshownews.tv, email Bob Lipp at call 516-829-0406.
About NewBay Media LLC
NewBay Media's market-leading brands are centered on five vertical markets: Pro Audio, Broadcast and Video, Musical Instruments, Systems Integration, and K-12 Education. NewBay publishes and produces over 40 publications and show dailies, 50 websites, 30 daily and weekly E-Newsletters, three Expos, and more than 50 custom-publishing efforts annually. NewBay reaches over two million readers in print and one million online and in-person, around the world in over 100 countries. Additional information on NewBay can be found by visiting http://www.nbmedia.com or contacting Eric Trabb at etrabb @ nbmedia.com.
###