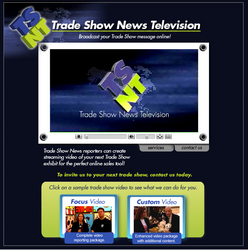 It's a dynamic opportunity for exhibitors to interact with current and potential customers, as well as strengthen ties within their selling network
New York (PRWEB) March 18, 2008
Trade show and conference exhibitors spend tens of thousands of dollars, and more, showcasing their products and services to would-be buyers. It's money well spent, but when the show is over, the event is history. Until now.
Trade Show News Television (http://www.tradeshownews.tv) is a unique news-style reporting service that lets exhibitors communicate the excitement and information of their trade show messages to an online audience via streaming video. Created by a long-time marketing executive, Trade Show News Television is the ideal way to have the trade show "live on," as a web-based sales tool that has a multitude of uses, all for a very affordable price.
"More than ever, people access their information online through streaming video," stated Bob Lipp, the creator of Trade Show News Television. "Our concept gives trade show exhibitors a streaming video that continues to support sales long after the trade show has ended."
Streaming video from Trade Show News Television lets exhibitors reach decision-makers who might not be able to attend their exhibit; attendees who may not have heard the complete sales message; and customers who'll use the online video to clarify their buying decisions.
"Trade Shows are all about providing attendees with an opportunity to see what you have to offer and why it makes sense for them to do business with your company," says Lipp. "It's a dynamic opportunity for exhibitors to interact with current and potential customers, as well as strengthen ties within their selling network," said Lipp. "However, once it's over, it's just a memory, unless Trade Show Television News is there to capture the event."
Trade Show News Television's two-person (reporter/cameraperson) crew interviews exhibitors, prior to taping, to discuss what to emphasize. After videotaping, the company creates a preview clip that is emailed for approval, prior to payment. The company does not require any upfront production fees.
The company can also help to publicize the video, promote it online, and create banners, "email-blast" graphics, and other materials that will add value to the streaming video.
To learn more about Trade Show News Television visit our site at http://www.tradeshownews.tv, or call Senior Reporter Jennifer Jessup at 516-829-0406.
###