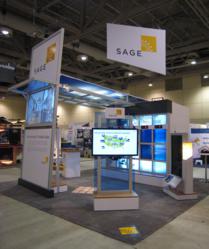 Dynamic interplays of digital communications and physical displays open up new opportunities for our clients to captivate and engage their audiences
Minneapolis (PRWEB) February 14, 2012
nParallel and Avtex announced their collaboration to co-create multi-dimensional, interactive technology solutions for brand marketers to energize engagement with customers in tradeshow, retail and corporate settings. Avtex is a leading provider of software technology that optimizes customer interaction. nParallel is a brand communication, merchandising and display agency. The companies are blending digital technology with traditional physical displays to create dynamic, interactive and personalized brand experiences that captivate and engage buyers.
After the big bang of social media — and with the virtual world now at their fingertips via smart phones, tablets and notebook computers — buyers have heightened expectations for the brand experience. They expect their engagements with brands to be immediate, interactive, and individualized. By integrating new technology developments in natural user interface (NUI) applications and interactive video into physical displays, Avtex and nParallel now offer dynamic new solutions to engage today's buyers.
"Social media, web marketing and mobile technology have transformed buyers' expectations. They want every touch point with a brand to be on their own terms," said Eric Raarup, chief marketing officer, Avtex. "The challenge for brand marketers and customer experience professionals is to fulfill these new demands in traditional venues like store aisles, tradeshow floors, and corporate lobbies."
"As brand communication visionaries, we have a responsibility to our clients to reveal new possibilities to enliven and enrich the brand experience, leverage marketing budgets, and drive sales revenue," said Don Gonse, executive vice president, business development, nParallel. "The dynamic interplays of digital communications and physical displays we now create with Avtex open up a new realm of opportunities for our clients to captivate and engage their audiences."
New interactive, multi-dimensional displays from Avtex and nParallel leverage mobile, social media and unified communications technologies and natural user interface (NUI) forms of communication (including touch, speech and gesture). For example, utilizing Microsoft Kinect, Avtex and nParallel are pioneering gesture-based applications for live event check-in, product presentations in 3D, and interactive product catalogs and project portfolios.
One of the first applications is in a tradeshow display designed by nParallel for SAGE Electrochromics, Inc. The interactive SageGlass® project portfolio enables tradeshow attendees to experience the dynamic nature of SageGlass, which electronically tints windows on demand and thereby controls the amount of daylight coming into buildings. With the gesture-based application, attendees take control of the presentation of product applications simply by pointing at a video screen. The video screen is housed in a kiosk positioned at the front corner of the tradeshow booth. When attendees stand in front of the screen, they view a map of the U.S. identifying projects that utilize SageGlass. Simply by pointing to the example they wish to see, attendees witness and experience how the product changes daylighting in buildings.
Thus, the gesture-based interactive kiosk enables visitors to select and view SAGE installations of specific interest to them and to witness the tint transition for themselves. Watching the building interiors change as the glass transitions from clear to tinted, via time-lapse photography, people experience and come to understand how the glass performs. SAGE staff are on hand to explain the technology and discuss potential benefits in response to attendees' questions.
"The first time we used the interactive project portfolio in our tradeshow booth, when attendees turned the corner into the aisle where our display was located, they came upon a sight they had never seen before at any other show," said Andrew Hulse, vice president, sales and business development, SAGE Electrochromics. "They found a group of attendees marveling as one of them was pointing to the video screen and waving their hand to select, launch, and control the presentation of examples of SageGlass installations."
"The integration of the digital technology into the physical environment of our tradeshow display made the initial experience of the SAGE brand at the show dynamic and user controlled," said Derek Malmquist, vice president, marketing, SAGE Electrochromics. "Dynamic control is what SAGE technology is all about. Attendees made an immediate, intuitive connection with our brand and wanted to learn more."
"Our clients recognize that including digital elements in physical displays can make brand experiences more memorable and meaningful," said Megan Diamond, president, nParallel.
About Avtex
Avtex provides new and innovative customer experience solutions that enable businesses to optimize interactions with their customers, employees, partners and prospects through communication and collaboration technologies. As a Microsoft Certified Gold Partner and Interactive Intelligence Platinum Elite Partner, Avtex is the first true integrated interaction solution provider with deep capabilities in contact center, UC, CRM, portals and collaboration, notification, infrastructure solutions, and custom application design and development. A Pohlad Family company, Avtex, maintains offices in Minneapolis, Minn.; Milwaukee and Appleton, Wisc.; Des Moines, Iowa; Cincinnati, Ohio; and Atlanta, Ga. Avtex serves over 1,200 customers across the United States and in six countries. More information is available at http://www.avtex.com.
About nParallel
Marketers and retailers know that displays and fixtures establish their brand experience, engage customers, and drive sales – if they are designed with imagination, skillfully crafted, and managed intelligently. Too often, unfocused planning, uneven execution and unexpected costs squeeze the creative spark out of their most compelling concepts. Their alternative is nParallel, the full-service agency that creates, crafts and takes charge of displays and fixtures designed to embody brands. Whether the venue for connecting with customers is a show, a store or a headquarters, the pros at nParallel fulfill the big-picture vision with a sharp eye focused on the small details of disciplined production and meticulous program management. For excellence without compromise, count on nParallel (http://www.nparallel.com).
###