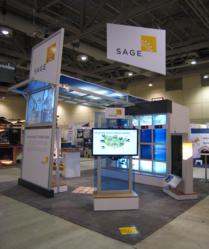 We had confidence in the experienced professionals at nParallel, and they produced an exceptional exhibit
Minneapolis, MN (PRWEB) November 15, 2011
nParallel announced its selection by SAGE Electrochromics, Inc. to develop, fabricate and manage the company's tradeshow exhibit properties. nParallel (Minneapolis, Minn.) is a full-service agency that creates, crafts, and takes charge of displays and fixtures designed to establish brands in tradeshow, retail and corporate environments. SAGE Electrochromics is the world's leading developer of dynamic window glass that is electronically controlled to change tint to optimize daylight and thereby improve the human experience within buildings.
"SAGE endeavors to convey the dynamic nature of our glass as the key product attribute. To accomplish this in a tradeshow display, we wanted a highly interactive booth, something very different than anything we had seen in the past," said Andrew Hulse, vice president, sales and business development, SAGE Electrochromics. "All along the way from our initial meetings to completion, we had confidence in the experienced professionals at nParallel. The thoughtful and thorough approach they undertook with us produced an exceptional exhibit."
"SAGE has re-branded, centering on the theme 'Be Brilliant,' to better reflect the company's character and convey that our technology dynamically harnesses the power of daylight to make people in buildings happier, healthier and more productive," said Derek Malmquist, vice president, marketing, SAGE Electrochromics. "nParallel's design team understood how to make our vision a reality. Their design lights up our theme and immerses tradeshow visitors in a vibrant brand experience."
About SAGE Electrochromics, Inc.
SAGE Electrochromics is the world's leading manufacturer of electronically tintable glass that can be tinted or untinted to optimize daylight and improve the human experience in buildings. SageGlass controls the sunlight and heat that enter a building, significantly reducing energy consumption while improving people's comfort and well-being. SageGlass can reduce a building's cooling load by 20 percent and HVAC requirements up to 30 percent. It is also a smarter, more elegant solution than conventional sun controls such as mechanical window shades, blinds and louvers. The company was founded in 1989 and is headquartered near Minneapolis-St. Paul, Minn., in the heart of "the Silicon Valley of the window industry." SAGE is strategically partnered with the Saint-Gobain company of Paris, France, the global leader in glass and building products.
For more information about SAGE, visit:
Website: http://www.sageglass.com
Twitter
Facebook
LinkedIn
YouTube
About nParallel
Marketers and retailers know that displays and fixtures establish their brand experience, engage customers, and drive sales – if they are designed with imagination, skillfully crafted, and managed intelligently. Too often, unfocused planning, uneven execution and unexpected costs squeeze the creative spark out of their most compelling concepts. Their alternative is nParallel, the full-service agency that creates, crafts and takes charge of displays and fixtures designed to embody brands. Whether the venue for connecting with customers is a show, a store or a headquarters, the pros at nParallel fulfill the big-picture vision with a sharp eye focused on the small details of disciplined production and meticulous program management. For excellence without compromise, count on nParallel (http://www.nparallel.com).
# # #