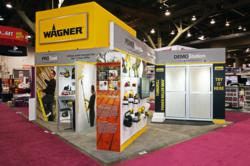 nParallel comes up with great design solutions, and they execute flawlessly
Minneapolis, MN (PRWEB) May 30, 2012
When Wagner SprayTech presented its products earlier this month at the National Hardware Show, they established their presence in a new 20x20-foot exhibit from nParallel. The exhibit presented excellent brand visibility with strong graphics, brilliant lighting, and an effective product demonstration area. nParallel is a full-service agency that creates, crafts, and takes charge of displays and fixtures designed to establish brands in tradeshow, retail and corporate environments. Wagner SprayTech Corporation serves the consumer DIY market and professional contractors alike with products designed to make it easier to prepare, apply, and clean up after painting projects.
"nParallel comes up with great design solutions, and they execute flawlessly," said Trisha Gregory, director of marketing, Wagner SprayTech Corporation. "Our goal was to raise our profile and upgrade our presence at the National Hardware Show. Our new exhibit from nParallel conveys our brand leadership."
"The design challenge was to make room for three product categories, a retail wall showcasing merchandising, and a demo area — all in a 20x20 exhibit that offers a clean, professional appearance and spacious feeling," said Megan Diamond, president, nParallel. "Our team crafted a design that makes every square inch of space work."
The exhibit is divided into sections that give special attention to each product category (sprayers, rollers and preparation products). Each section features a television monitor showing the products in use. A retail wall is merchandised to show the recommended merchandising methods for retailers.
nParallel designed two-sided demo boards that can be flipped to reveal a new, clean board to paint. Quiet fans blowing cool air are integrated into the top of the interior wall to help the paint dry faster so the boards are quickly ready for the next demo.
About Wagner SprayTech
Wagner SprayTech Corporation (Plymouth, Minn.) is a wholly-owned subsidiary of Wagner Holding, Inc. Manufacturing started in 1973, and today the company has full research and development, engineering, manufacturing, and distribution capabilities. Wagner develops and markets a wide array of painting and decorating products used in home improvement, commercial painting and industrial fine finishing. Wagner products are designed to make it easier for the end user to prepare surfaces, apply paints and other coatings, and clean up after painting. Wagner is strongly committed to maintaining a leadership position through innovative marketing, high technology engineering, and quality manufacturing. For more information, visit http://www.wagnerspraytech.com and http://www.youtube.com/WagnerPainting and follow @WagnerSprayTech on Twitter.
About nParallel
Marketers and retailers know that displays and fixtures establish their brand experience, engage customers, and drive sales – if they are designed with imagination, skillfully crafted, and managed intelligently. Too often, unfocused planning, uneven execution and unexpected costs squeeze the creative spark out of their most compelling concepts. Their alternative is nParallel, the full-service agency that creates, crafts and takes charge of displays and fixtures designed to embody brands. Whether the venue for connecting with customers is a show, a store or a headquarters, the pros at nParallel fulfill the big-picture vision with a sharp eye focused on the small details of disciplined production and meticulous program management. For excellence without compromise, count on nParallel (http://www.nparallel.com).
###