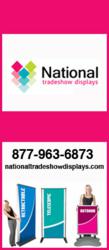 Our popup displays provide the higher quality at affordable prices on a national scale
New York, USA (PRWEB) September 14, 2012
Thousands of businesses make a poor marketing impact in trade shows and exhibition events because they lack the proper product for enhancing their brand awareness. Many businesses think the reliance on signage that was cool decades ago is still appropriate for today's fast moving marketing environment. Now, National Trade Shows Displays announces its latest range of Pop Up Displays for showcasing your products at a budget friendly price. Exposing you into on some of the features of these Pop up Displays, and will the advantages they offer.
Businesses experience deadline sneak-ups as they try to fit numerous tradeshow items into their budget, and at the event, they find that the set up time is very short. Trade Show Displays provides standardized processes of setting up and dismantling its products, ensuring that they retain their top condition even after repeat usage at different annual activities.
Already, there is much planning and time spending done as tradeshows approach and when things get hectic, it is easy to forget or overlook important things. Sometimes, the misfortune includes a missing or incomplete tradeshow booth.
National Trade Shows Displays is happy to provide 100% satisfaction to customers who purchase a number of its products. Through the easy to navigate website, customers can move from a general category to a specific product using very few clicks.
Each product design lays a special emphasis on practicality and usability such that everything is plug and play or point and click. Other that the basic instructions of setting up, there are no additional training needed. The most popular products are banner stands, popup displays, tension fabric displays, tension fabric systems, display additions, exhibit truss, linear hybrid displays, flood lights, spot lights, lighting boxes, cases and accessories, cases and bags, info centers, economy display products, setup video, and color fabrics.
"Our popup displays provide the higher quality at affordable prices on a national scale" – says MD at National Trade Show displays.
The popup displays have been designed specifically to keep them light for easy transportation and setup. They are easy to assemble, and fold away to fit into bags for compact transportation. A number of shapes are available including straight, curved and horseshoe popup kits. The entire popups display range feature a hard glossy graphic. The coyote range has a magnetic technology used to connect fabric panels. It eliminates the need for using delicate locks.
Events come in different forms and sizes and your specific needs are likely to change, that is why National tradeshow displays offer a sturdy full size popup display, a smaller alternative for tabletops and these can transform into counter tops with a stretch wrap.
Tradeshows require companies to overdo their displays, but if it is not catching, using more of it will make it worse. To remedy this challenge, National tradeshows has a range of retractable banners stands to fit all kinds of needs and highlight high quality info graphics for your company. On their own, they attract attendants and create a virtual experience.
Successful exhibitors know their target customers and make every effort of presenting targeted messages through their displays at tradeshows and other similar events. On its part, National Trade Shows Displays works to create affordable and highest quality solutions that cover all presentation needs, and ease of use.