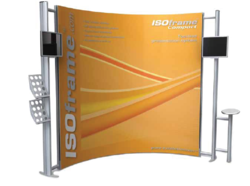 We have exciting ideas on how to make you stand out from the crowd. Contact us to learn how!
Hartford, CT (PRWEB) July 06, 2011
Trade shows provide a great opportunity for a business to have face to face meetings with potential customers and showcase its capabilities. They can be overwhelming with the lights, traffic, blinking gadgets and the sumo-sized booths installed by larger companies. Everyone wants to be noticed and direct traffic to their booth. Some companies may feel they don't have the budget to compete with the custom designed booths and therefore miss the opportunities the shows could create. Joseph Merritt and Company is excited to offer new display solutions that address this. These exciting booths will fit the small budget while delivering a high impact.
Among the new display units are the ISOFrame Wave and Compact. The ISOFrame Wave is the world's first fully-flexible display system. The booth can be arranged in many configurations giving the user the ability to fit into a variety of booth spaces. The ISOFrame Compact brings artistic, creative new looks and features into the world of custom modular portable displays.
Ruth O'Neil, a sales rep for Joseph Merritt, points out, "What's great about the ISOFrame line is the ability to add on to the frame. This year's budget may only allow for 3 frames but next year the customer could buy more and add to the existing pieces to create a whole new look and feel." The panels for the graphics are standardized so you can use the same graphics whether the booth is straight curved, waved etc. (Watch the video for a demonstration.) These great looks combined with the high quality digital printing and you are sure to be noticed at your next event.
Joseph Merritt & Company has been helping businesses succeed for over 100 years. We are print marketing specialists and look forward to helping your company with its next trade show or other marketing campaigns. For more information please visit http://www.merrittgraphics.com or call us at 800-344-4477.
###